New York Ramps Up Toward Most Sweltering Heat of the Summer
(Bloomberg) -- More than 100 million people will swelter through another blistering day across New York and the eastern U.S., potentially setting record energy demand and bringing on conditions that will make temperatures feel as high as 110 degrees.
Thermometer readings could reach 94 degrees Fahrenheit (34 Celsius) in New York's Central Park on Sunday and 95 degrees Monday, the National Weather Service said. The heat combined with humidity will make temperatures feel closer to 100 degrees in the city and closer to 110 degrees across parts of New Jersey, Delaware and Maryland.
"The magnitude of the heat is probably going to peak today and tomorrow," said Marc Chenard, senior branch forecaster with the U.S. Weather Prediction Center in College Park, Maryland.

When heat and humidity mix, it feels hotter than the reading on the thermometer and the risk of heat stroke rises. The weather service recommends people postpone strenuous work, drink fluids and stay in air-conditioned spaces. More than 600 people in the U.S. die each year from heat-related causes, according to the Centers for Disease Control and Prevention.
This all leads to huge energy demand that will "likely break the current record," said Jim Rouiller, lead meteorologist with the Energy Weather Group LLC. Based on cooling degree days values, a measure of weather-driven energy demand, July electricity usage will surpass the all-time high levels seen in 2011.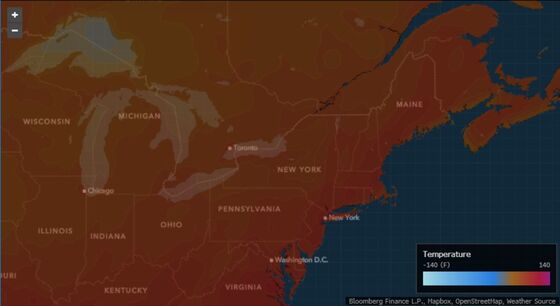 The hot weather is expected to strain power grids from the Midwest to the Northeast. PJM Interconnection LLC, which operates the grid spanning from Chicago to Washington, asked generators to delay maintenance that might reduce supplies. It's issued a hot weather alert through July 20, and the Midcontinent Independent System Operator Inc. issued a severe weather alert.
On average, New York has six 90-degree or hotter days each July, according to records dating back to 1869. So far, Central Park has reached that measure five times. In 1993, there were 20 days above that mark.

Excessive heat warnings have been issued across New Jersey into eastern Pennsylvania, Delaware and parts of Maryland. Washington should hit 99 Sunday and Monday. The corridor from Philadelphia to Washington to North Carolina could have temperatures that feel like 105 to 110 degrees, factoring in humidity, Chenard said. Heat advisories stretch west to Oklahoma affecting at least 100 million people, he said.
It isn't just people who are threatened. The high temperatures across the Midwest are also putting stress on corn and soybeans there.
While the humidity make temperatures feel hotter than recorded on the thermometer, some of the highest actual readings Sunday will be in northern New York and across New England, Chenard said. Burlington, Vermont could reach 99, which is a degree short of the record for the day and 2 degrees below its all-time hottest day.
The excessive heat looks set to remain through the rest of the week and could continue well into August, potentially making this summer one of the three hottest of the last 20 years, Rouiller said.