NYC Is Slammed With Season's Heaviest Snow as Storm Winds Down
(Bloomberg) -- A relentless nor'easter that's already dumped more than a foot of snow on New York City is on pace to become one of the worst winter storms in the region's history.
While the brunt of storm is easing, it's forecast to drop several more inches overnight into Tuesday. More than 15.3 inches (39 centimeters) had fallen in Central Park by late Monday afternoon. Overall, New York could end up with as much as 20.
If the forecast holds, the storm will earn a spot in the top 10 worst New York City storms going back to 1869. The largest one, in 2016, dumped 27.5 inches. Still, the worst is over.
"There should be no more significant accumulation," said James Tomasini, a National Weather Service meteorologist. "We have already seen the heaviest bands coming through."
As night fell Monday, winter storm warnings were in place from West Virginia to Maine with equivalent bulletins posted across southern Quebec and New Brunswick. The storm, which roared across the Midwest over the weekend, left 9 inches in Chicago and just over 2 inches at Reagan National Airport in Arlington, Virginia, according to the weather service. New York Governor Andrew Cuomo declared a state of emergency in 44 counties on Monday, and warned people to head home or risk getting stranded.
"Roads in Manhattan are dangerous and impassable at points," he said during a briefing Monday.
Outdoor subway service was suspended at 2 p.m. and will reopen as soon as it's safe to do so, New York City Transit Authority interim President Sarah Feinberg said.
All LaGuardia Airport flights have been canceled, and the Long Island Rail Road and Metro North trains were shut. Service on the Port Authority Trans-Hudson line was suspended at 3 p.m.
Amtrak has canceled Acela service between Boston and Washington, which passes through New York, and will operate other services on a limited schedule, the government-run railroad said on its website.
New York Mayor Bill de Blasio ordered residents to stay off roads from 6 a.m. Monday until 6 a.m. Tuesday. As of 10 a.m., state troopers had responded to 343 accidents and 295 calls for driver aid.
"There's too many cars on the road, period," New Jersey Governor Phil Murphy said.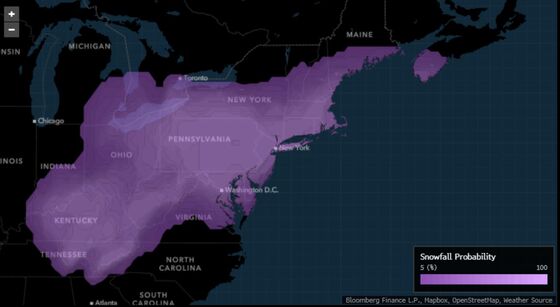 More than a foot of snow has fallen from West Virginia to New York, including a regional high of 16 inches in Long Hill Township in New Jersey, the National Weather Service said in a tweet.
In addition to the snow, coastal flood warnings and advisories were issued for New York City's Queens, Brooklyn and Staten Island boroughs, as well as parts of Long Island, the weather service said. Minor and moderate flooding has been reported along the New Jersey coast, New York Harbor and parts of western Long Island, the weather service said.
All New York City vaccination centers and all in-school instruction will be closed due to the weather. The postponed Covid-19 shots will be rescheduled as quickly as possible, the mayor said. "Last thing we want to do is urge our seniors to come out in the middle of a storm like this. It doesn't make sense," he said. "We'll get them done as quickly as humanly possible. But it's just not going to be safe out there on Monday."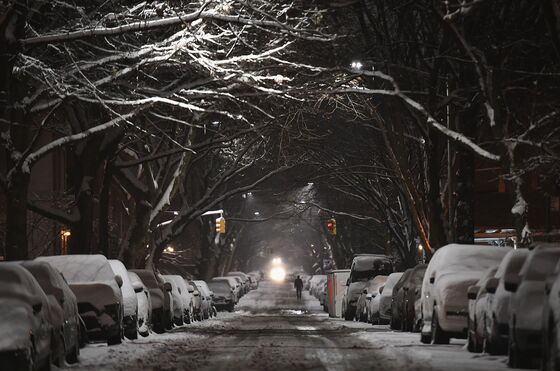 New Jersey, which closed state government offices and its six vaccine mega-sites, will do so again on Tuesday, according to Governor Murphy.
Rain has crept into parts of the Mid-Atlantic and could seep into coastal New England and eastern Long Island, limiting snow accumulation there. Philadelphia will probably end with up to 5 inches of snow, with Boston getting up to 11 and Montauk, New York, getting 6 inches.
While the Northeast digs out there is a chance another storm could be coming by the weekend.