Tropical Storm Fay Comes Ashore in New Jersey on Way to New York
(Bloomberg) -- Tropical Storm Fay came ashore near Atlantic City, New Jersey, bringing torrents of rain and heavy winds to New York as it makes its way north.
Rain and wind are already pummeling Manhattan. The system has prompted tropical storm warnings from Delaware to Rhode Island, including in New York, which hasn't had a storm of this magnitude since Sandy in 2012.
Fay, however, is expected to be far less damaging. Its top winds reached dropped to 50 miles (80 kilometers) per hour, down from 60 mph earlier, as it moved onshore about 10 miles northeast of Atlantic City, the National Hurricane Center said in a 5 p.m. advisory. Manhattan, along with a wide area from Delaware to New England, will get heavy rain.
"While isolated minor flooding is possible, widespread river flooding is not expected," Michael Brennan, the branch chief at the center, said in a forecast analysis. "Gradual weakening should occur from here on as the cyclone begins to interact with more land."
About 4 inches of rain could get wrung out from the storm, with some isolated spots getting as much as 6 inches. The strongest winds will be east of the storm moving across Long Island and southern New England, tearing down tree branches, probably causing some power outages and possibly touching off some minor tornadoes in a region that usually doesn't get many of those destructive storms. There could also be some minor storm surge flooding along exposed coastal areas.
"There is already significant flooding and we expect more of it in low-lying areas," New Jersey Governor Phil Murphy said at 1 p.m. New York time. President Donald Trump's administration had checked with the state on whether it needed "any resources or support," he said, adding that New Jersey had no need yet. High winds remained a worry, he said.
Earlier, Trump postponed a Saturday night rally in New Hampshire.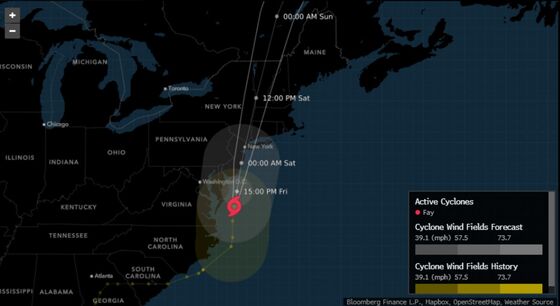 In New York City the weather brought particularly bad news to more than 6,000 restaurants permitted to offer outdoor dining on streets, sidewalks and curbsides. Almost all are equipped with lightweight tables, chairs, umbrellas and portable partitions.
"Tonight's not going to be a great night for outdoor dining, and get your furniture and umbrellas and everything in so they don't go flying away, creating a kind of danger," Mayor Bill de Blasio said, warning restaurant owners during a news briefing. "We expect heavy rain today lasting into early tomorrow, pretty heavy winds, and we need people to be ready for that, and some flash flooding in parts of the city."
Fay will now track north over New York late Friday and sweep up the Hudson Valley and western Massachusetts before entering Vermont and finally falling apart in Quebec on Sunday.
This is the third storm to hit the U.S. in 2020 and the sixth system in the Atlantic named so far this year, a record for this point in the hurricane season.