Nissan Revamps Altima to Take On Dearth of Detroit Sedans
(Bloomberg) -- When Nissan Motor Co.'s redesigned Altima flagship goes on sale this week, it will pound another nail in the coffin of sedans built by companies based in and around Detroit -- the city that invented the whole idea of family cars.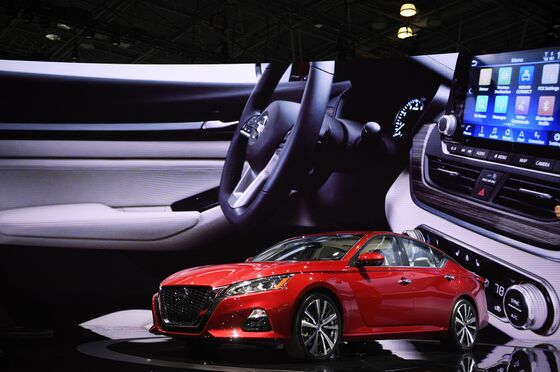 Fiat Chrysler Automobiles NV stopped building sedans in the U.S. two years ago. Ford Motor Co. plans to follow suit in 2020 but won't bother to advertise sedans in the meantime. With only General Motors Co. left in Detroit still pursuing a full lineup of cars, Asian automakers have a pretty clear field and are poised to capture 88 percent of midsize car sales by 2022, up from 64 percent in 2012, according to Zohaib Rahim, a Cox Automotive analyst.
This car dominance is worth less to the Asian companies, including Korean affiliates Hyundai Motor Co. and Kia Motors Corp., in 2018 than it used to be, since American consumers are still flocking to sport utility vehicles and crossovers. Alan Baum, an independent auto analyst in Bloomfield Township, Michigan, expects total U.S. car sales to drop to 4.0 million in 2023 from 7.1 million in 2012. Already last year, the traditional domestics' car sales fell below their 2009 level, Baum said.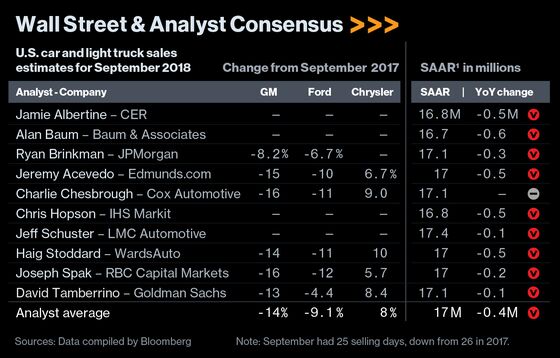 But Nissan, Honda Motor Co. and Toyota Motor Corp. can withstand this decline better than their Detroit competitors, Baum said. That's because their flexible factories can shift more easily from cars to crossovers -- and perhaps back again if rising oil prices spark a sedan revival, he said.
The new Altima, for example, shares mechanical underpinnings with the larger Maxima sedan, the Murano crossover and the Pathfinder SUV. And even though Ford last month sold the most F-Series pickups in any August since 2005, Baum called Detroit's car surrender a self-inflicted strategic weakness.
"The Nissan Altima, Honda Accord and Toyota Camry weren't always big sellers," Baum said. "They became big sellers as Detroit walked away from cars."
The next opportunity for automakers to assess their weaknesses and strengths comes when they report September sales Tuesday.
Industrywide deliveries probably ran at an annualized pace, adjusted for seasonal trends, of 17.0 million in September, according to a Bloomberg News survey of nine analysts. That's down from a year earlier, when many people in Houston, the country's fourth-largest city, had to replace vehicles ruined by Hurricane Harvey.
This year's big storm, Hurricane Florence, had only a limited impact on September sales, according to Jeremy Acevedo, a Edmunds.com analyst.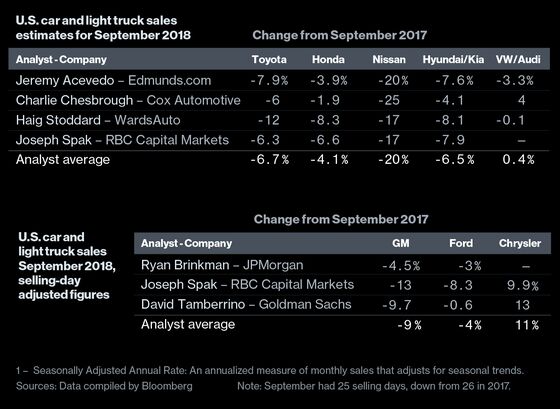 The new Altima is longer, lower and wider than its predecessor, and even the most inexpensive versions come with an array of first-ever options, including all-wheel-drive and a ProPilot Assist package to help with braking and steering on highways.
Denis Le Vot, chairman of Nissan's North American operations, said that going forward, Nissan will try even harder to be known as a democratizer of technology.
"We don't have exclusive, elite tech in our cars," Le Vot said in an interview. "Take ProPilot: What we are doing is enlarging the field for this technology, and solving the cost, in order to be able to offer it to most people."
Altima designer Ken Lee said that in the vehicle's new look, he sought a performance-oriented, hug-the-road appeal that SUVs can't match, and that might have struck buyers as tone deaf during the financial crisis.
"We can be a bit more flamboyant now," Lee said, "but we still don't want to freak people out."
Despite all these improvements, even Nissan is being forced to pare its Altima ambitions. The company plans to build 230,000 Altimas this year at factories in Smyrna, Tennessee, and Canton, Mississippi, Baum said, down from 345,000 in 2016. Le Vot declined to characterize Nissan's targets for output or sales.
Part of the production cutback comes in response to a directive from Nissan's Japanese headquarters to wean the company from excessive rebates and discounted sales to rental companies. Rebates and other incentives totaled 16.5 percent of the average transaction price for the outgoing Altima so far this year, compared with 9.4 percent for the Camry and 5.0 percent for Accord, Cox's Rahim said.