Saudis Consider Blaming Khashoggi Death on Botched Interrogation
(Bloomberg) -- Saudi Arabia is considering saying that missing journalist Jamal Khashoggi died in a botched interrogation, according to media reports, an explanation that could deflect suspicions the royal court ordered him killed and give the U.S. and Turkey a way out of confronting a regional powerhouse.
The possible narrative of an operation gone wrong, reported by CNN, the New York Times and the Wall Street Journal, was being floated as U.S. Secretary of State Mike Pompeo arrived in Riyadh to discuss the disappearance of Khashoggi, a Saudi government critic last seen entering the kingdom's consulate in Istanbul on Oct. 2. President Donald Trump said he couldn't confirm that account, but has suggested a "rogue killer" might be to blame.
Turkish officials have said privately that Khashoggi, a contributor to the Washington Post, was killed inside the building.
Skeptics say it's unlikely an interrogation could have happened without the knowledge of the royal court, which has maintained that Khashoggi exited the consulate unharmed. But Saudi Arabian stocks erased losses on the reports of a story line that could potentially diminish the risk of threatened punitive action from Washington. The Tadawul All Share Index, which had lost as much as 4 percent in the first six minutes of trading on Tuesday, rebounded to close up 1.3 percent.
Pompeo met with King Salman immediately after his arrival, then with Foreign Minister Adel Al-Jubeir. He "thanked the King for his commitment to supporting a thorough, transparent, and timely investigation of Jamal Khashoggi's disappearance," according to State Department spokesperson Heather Nauert. Later in the afternoon he held the first of two scheduled meetings with Crown Prince Mohammed bin Salman, the kingdom's de facto ruler, whose image has been battered by the affair.
"We are strong and old allies," the prince said before journalists were ushered out of the room. "We face our challenges together."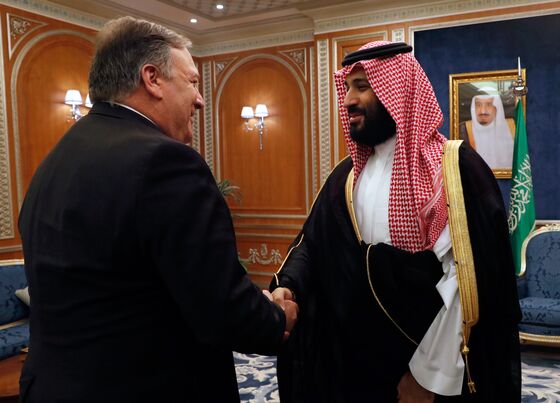 Khashoggi's disappearance is the latest development to undercut Prince Mohammed's efforts to fashion himself as a reformer, including his jailing of hundreds of businessmen, royals and activists over the past year in an alleged crackdown on corruption and national security threats. It's also threatened to spark a diplomatic crisis with the Trump administration, which has built its Middle East policy around a close alliance with Saudi Arabia, and with Turkey, which has worked to maintain ties with oil-rich kingdom despite serious differences over regional policy.
Menacing Investment
Chris Van Hollen, a Democratic senator from Maryland, said in a statement that "President Trump's suggestion that Khashoggi's elaborately planned murder in the Saudi's own consulate was orchestrated by 'rogue killers' defies reality. Orders must have come from the top. The U.S. must not be complicit in an effort to cover-up this heinous crime."
Khashoggi's disappearance has also had implications for Prince Mohammed's much-touted plan to overhaul the Saudi economy. On Monday, Trump said he's uncertain whether Treasury Secretary Steven Mnuchin will participate in a Saudi investment conference later this month. A succession of sponsors and participants have already pulled out, with the chief executives of HSBC Holdings Plc and Credit Suisse Group AG on Tuesday joining a list that also includes JPMorgan Chase & Co. Chief Executive Officer Jamie Dimon and Uber Technologies Inc.'s Dara Khosrowshahi.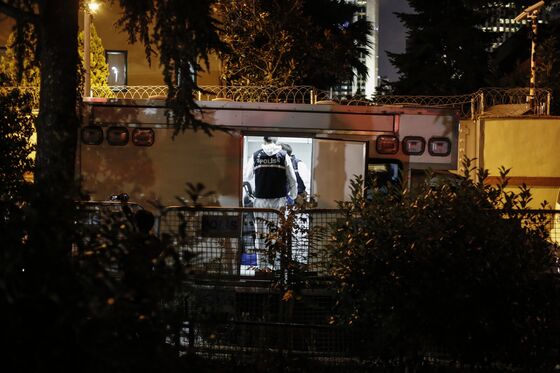 A team of Turkish forensic experts and security officials entered the Saudi consulate on Monday night for an investigation that lasted more than nine hours. State-run Anadolu news agency said the consul's residence would also be searched, without giving a timetable. Pompeo is expected to visit Turkey on Wednesday after his trip to Riyadh. Both the U.S. and Turkey have refrained from implicating Saudi authorities outright.
Trump has said the U.S. could take "very, very powerful, very strong measures" against Saudi Arabia if its leadership is found responsible for Khashoggi's disappearance -- a comment that provoked a Saudi threat of retaliation. But while he's come under increasing pressure from Congress to cancel multibillion-dollar arm sales to the kingdom, Trump has resisted, saying Riyadh will just turn to Russia or China instead.
Turkish leaders have also been circumspect about Khashoggi's disappearance, giving no public comment at a time when their country is isolated in the Middle East over its regional policies and grappling with economic woes.