Murphy Ekes Out New Jersey Win, Erasing Big Lead by GOP Challenger
(Bloomberg) -- Phil Murphy became the first Democrat in more than four decades to win a second term as New Jersey's governor, surviving by a narrow margin that stunned Democrats already reeling from a loss in Virginia. 
The former Goldman Sachs Group Inc. executive won against Republican Jack Ciattarelli, according to the Associated Press, despite a day of delays after votes trickled in slowly. Adding to the confusion was a lack of clarity from 21 county elections officials over how many of more than 700,000 mail-in and early voting ballots were included in the totals.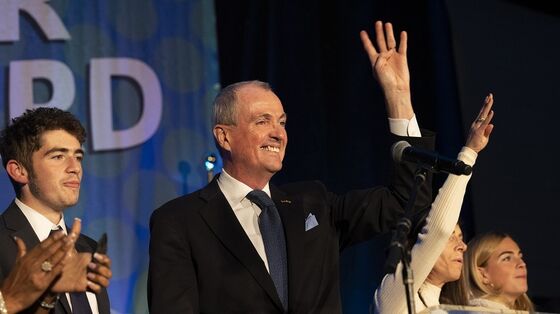 By Wednesday night, Murphy had won 50.2% of the vote, with Ciattarelli at 49%, according to the AP. About 29,000 votes separated the two, with 98% of precincts reporting.
The close race sent a powerful message about the resilience of the Republican Party after President Donald Trump's defeat last year and is sure to energize the GOP with the approach of the campaign for control of Congress in 2022. Ciattarelli eroded support for Murphy by hitting the governor on local issues, including some of the the highest-in-the-nation property taxes and his Covid-19 policies, including the use of vaccine mandates for some public workers.
In a speech in Asbury Park Wednesday night, Murphy made no mention of the closeness of the race or the struggles of the Democratic Party. He highlighted his first-term efforts in areas such as education, raising the minimum wage and expanding family leave.
"If you want to to understand where America is heading, look to New Jersey," he said. "If you want to be governor for all of New Jersey, you must listen to all of New Jersey."
Ciattarelli's initial lead over Murphy shrank over the course of Wednesday as more mail-in votes were counted. Of more than 500,000 ballots cast by mail, nearly two-thirds were from Democratic voters, according to a tally by the Rebovich Institute for New Jersey Politics at Rider University. Still, the closeness of the vote raises the prospect of a recount, Micah Rasmussen, director of the institute, said before the race was called. 
Stami Williams, Ciattarelli's campaign spokesperson, said on Twitter that the call for Murphy's victory was "irresponsible" given the tightness of the race and the outstanding ballots to be counted.
Murphy solidified his lead as three Democratic-leaning counties -- Essex, Mercer and Camden -- came through late Wednesday with more than 14,000 additional votes. The only outstanding precincts from the Associated Press's tally were in Essex County and Hudson County, another Democratic-leaning area.
The fact that the race came down to the wire seemed to catch Murphy supporters off guard after pre-election polls and early returns showed the incumbent with a sizable lead. By 10 p.m. on Election Day, the mood at Murphy's election headquarters had decidedly turned. Mariah Carey's "All I Want For Christmas" and Murphy cheers gave way to television commentary.
Tim Rudolph, IFPTE Atlantic Council president, who was anxiously watching the results stream in at the Murphy headquarters said he was "uneasy" but that he thought "Murphy is going to pull it out."
And pull it out he did. New Jersey leans Democratic, but voters frustrated by high taxes have kept their recent governors from that party to single terms. Brendan Byrne, who served from 1974 to 1982, was New Jersey's last Democratic two-term governor. 
Murphy, 64, was bolstered by positive approval ratings over the course of the coronavirus pandemic. A self-described progressive, he showcased first-term successes like raising the minimum wage, legalizing recreational marijuana, expanding paid family leave, restoring women's health funding and providing free tuition to low-income college students.
Dominic Nicosia, 36, of Asbury Park, said he was initially skeptical of Murphy, but "the main thing that he has done to sway me was his response to Covid."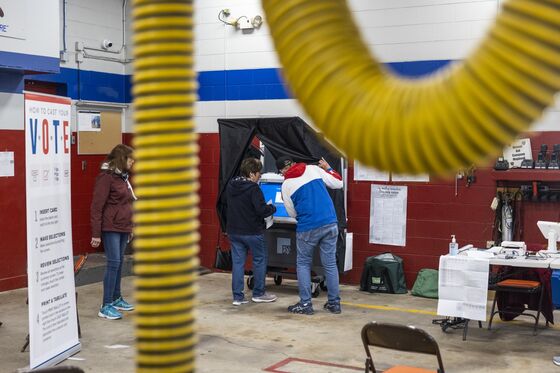 President Joe Biden and Vice President Kamala Harris made pre-election trips to New Jersey to visit with Murphy but most of the Democrat Party's attention was focused on Virginia, the only other U.S. state holding a governor's race this year. Democrats feared a loss by Terry McAuliffe, the former Virginia Governor, could augur a red wave across the country during the 2022 midterm elections. 
Ciattarelli, a former state lawmaker, hammered Murphy during the campaign over the state's expensive cost of living. The Republican remained little known to many voters, even after spending more than $12 million on the race. Ciattarelli, 59, also had a late influx of financial help from the Republican Governors Association, which spent $3.1 million in New Jersey as of Oct. 29.
"If voters don't know who you are, it doesn't matter how good your attacks are," Dan Cassino, executive director of the Fairleigh Dickinson University poll, said in a statement before the election. "New Jersey is an expensive state to campaign in, and Ciattarelli just hasn't been able to match Murphy's visibility."
Late-deciding independent voters, a crucial component of the electorate, were leaning toward the incumbent last week, according to Cassino.
Both Murphy and Ciattarelli had help from record spending by independent groups that don't have to disclose their donors. As of Oct. 29, the groups had spent $38.6 million on the election, 58% more than the previous high in 2017, according to data from the state's Election Law Enforcement Commission.
For Liz Roan, of Camden County, "Covid response and taxes" were some of her top concerns in the election. Roan, 36, said she voted for Murphy and said higher taxes were worth paying for good public schools and safe communities.