New Jersey Governor Mandates School Masks as Delta Spreads
(Bloomberg) -- New Jersey Governor Phil Murphy mandated masks in schools as Covid cases increase among a younger population that next month will start in-person lessons statewide for the first time since the pandemic's onset.
Murphy made the announcement Friday afternoon at an elementary school in East Brunswick. The order applies to more than 1.4 million schoolchildren, plus teachers and other staff, while indoors in public and private schools.
The governor, a first-term Democrat who faces re-election in November, previously had said he would leave mask decisions up to the school districts but reserved the right to change his mind if the Covid outbreak worsened.
"Anyone telling you that we can safely reopen our schools without requiring everyone inside to wear a mask is quite simply lying to you," Murphy said.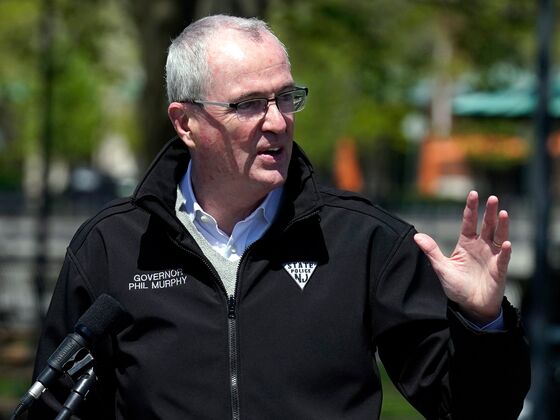 Marie Blistan, president of the New Jersey Education Association, representing 200,000 teachers and other staff, said the union fully supported the order. Exceptions will be made for those with health conditions. Masks may be removed while eating and drinking, playing musical instruments and engaging in high-intensity physical activities.
In late July, the U.S. Centers for Disease Control and Prevention issued revised guidance that even fully vaccinated people should resume wearing masks indoors in high-transmission areas.
In all, 69 of the 200 largest K-12 districts had already mandated masks for all students as of July 30, according to the Burbio School Opening Tracker.
Illinois Governor J.B. Pritzker, a Democrat, said this week that masks will be required in schools and daycare centers effective immediately. California will mandate masks be worn indoors at schools, and Virginia is requiring that schools follow CDC recommendations. Florida Governor Ron DeSantis, a Republican, has taken the opposite approach and aggressively resisted the CDC's recommendation even as the virus rages in his state, signing an order that gives the state power to withhold funds from schools that have mask mandates.
Murphy strongly recommended face masks indoors for all residents in crowded indoor places. Earlier in the pandemic, masks were required in New Jersey in such settings. This time, most virus-related hospitalizations are of people who haven't been vaccinated.
Four of New Jersey's 21 counties are at highest risk for transmission and 16 others are at substantial risk, according to a CDC update on Wednesday. Just one has moderate risk.
New Jersey has been logging an increase in Covid hospitalizations in residents under 18, Health Commissioner Judith Persichilli said during a Monday virus briefing.
On July 9, a group of parents and children sued the Murphy administration in federal court, claiming that schools' pandemic steps are violating constitutional rights and interfering with learning and social development. New Jersey schools haven't had in-person classes statewide since March 2020.
Murphy's Republican opponent, retired businessman Jack Ciattarelli, said the new policy was "bewildering."
"Whether a child wears a mask should be decided by parents, not government," Ciattarelli said in a statement.
The state reported 1,249 new cases on Friday, and 619 hospitalized as of Thursday, up from 279 a month earlier.