New Homes Look Like a Deal, at Least Compared With Existing Ones
(Bloomberg) -- What's happening to the new-home premium?
The average new home in the U.S. went for $324,467 in June, 28 percent more than the $254,200 price for existing homes, according to data from John Burns Real Estate Consulting LLC. That's down from a 37 percent gap in 2015 and is the smallest difference since the end of 2010.
The main reason is that existing-home prices are rising faster. Homebuyers are in an affordability crunch, especially in the pricey coastal markets, as they compete for a dwindling supply of listings. And while builders have been slow to boost production, citing higher costs for land, labor and materials, they've started marketing smaller houses with fewer frills, farther from job centers, to budget-conscious first-time buyers.
"They've pivoted more to entry-level mode -- they're getting the price points down," said Burns, a homebuilding consultant based in Irvine, California. "Resale homes have been appreciating two or three percentage points faster than new homes for the last couple years."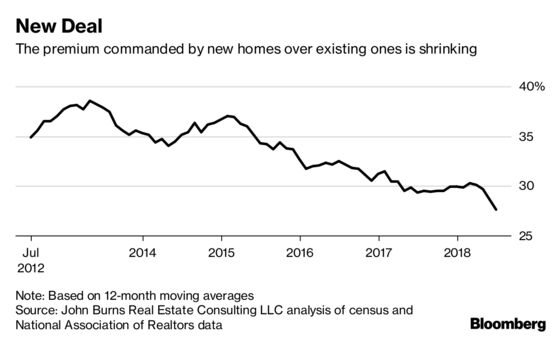 New homes typically sell at a premium because they have modern designs and are more energy-efficient, among other reasons. In calculating the premium over time, Burns used 12-month moving averages to smooth out seasonal fluctuations.
The price gap between new and existing homes was much narrower during last decade's housing bubble, when existing-home values were inflated by risky lending standards and rampant speculation. The highly competitive market for previously owned homes is starting to cool, particularly in hot markets like Denver, Seattle and Austin, Texas, where incomes haven't kept pace with price gains and rising mortgage rates.
Even as their beloved premium shrinks, there's a bright side for builders.
"As existing-home prices have gone up, it does mean more homeowner wealth," said Robert Dietz, chief economist at the National Association of Home Builders. "Most new construction is sold to existing buyers, so there's a potential that they'll have a larger down payment."