New Chair of 205-Year-Old Swire Looks to China for Growth
(Bloomberg) -- As chairman of Swire Pacific Ltd., Merlin Swire steered the 205-year-old Hong Kong business empire through some of its worst crises in recent times, including the pandemic that almost sank its aviation unit last year.
After three testing years, the sixth-generation Swire, 47 -- the only scion to have held the top job at Swire Pacific since the 1860s -- is handing over the reins of the family's flagship listed holding company back to a professional manager on Wednesday. His successor, veteran insider Guy Bradley, faces a formidable challenge: Reviving growth stunted by Hong Kong's 2019 political turmoil and the coronavirus crisis.
Swire's pick for the role offers a peek into where one of the world's oldest business clans is focusing to secure the future of the conglomerate it's always controlled from afar. Bradley, 55, a fellow Oxford University graduate who started his career at Swire Pacific in 1987, expanded the group's mainland property business, oversaw the sale of non-core assets for reinvestment in China and led a foray into health care. In May, he promised to deliver on an "extensive pipeline" of investment in China.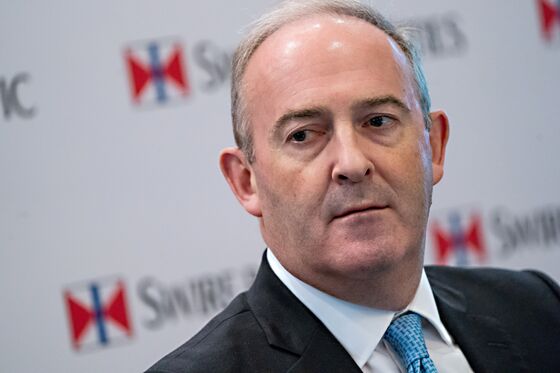 The renewed mainland pivot by the colonial-era British trading house -- known locally as a "hong" -- comes at a time when room for expansion in its home market of Hong Kong looks limited, and Swire Pacific's assets outside the region aren't significant enough to swiftly scale up. Beverages and property were its two major profitable operations last year, mainly due to China's strong recovery.
"Swire not only makes its fortune in China, but realizes its future is also here," said William Kirby, a Harvard Business School professor who specializes in Chinese businesses.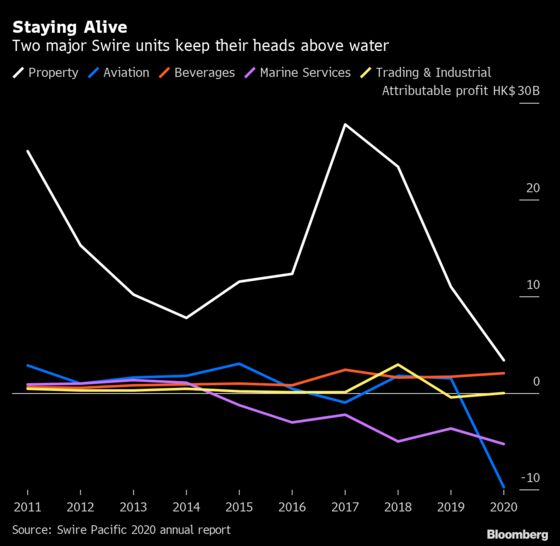 Under Bradley's watch, Swire Properties Ltd. saw its investment portfolio in China grow 32% to more than 11 million square feet since 2011, compared with a 4% drop in Hong Kong to 13.8 million square feet. The unit's revenue from the mainland more than tripled during the period.
The executive is also helping Swire Pacific enter new growth areas, with plans to spend HK$20 billion ($2.6 billion) in health care by 2030. The group has invested HK$1.1 billion for minority stakes in two medical ventures in Shanghai and Shenzhen. 
Buoyed by the recovery, Swire's shares have surged 24% this year, compared with a 5.5% decline in the benchmark Hang Seng Index. The rise has partly offset the stock's 41% plunge last year, the worst since 2008.
"Growth potential is limited in the long run for Hong Kong as a single city," said Vincent Lam, chief investment officer at Hong Kong-based VL Asset Management, which holds Swire Pacific shares. "Developing the mainland Chinese market is definitely a plus. The property division has been the group's brightest spot."
Swire Pacific is confident about the city's long-term growth potential and is still investing in projects there, a spokeswoman for the group said in an email. 
China accounted for 42% of Swire Pacific's income last year, up from 29% in 2015, while Hong Kong's contribution shrank to 22% from 39%, according to Bloomberg calculations based on company data. After cutting the workforce at struggling carrier, Cathay Pacific Airways Ltd., the group had as many employees in mainland at the end of 2020 as it did in Hong Kong.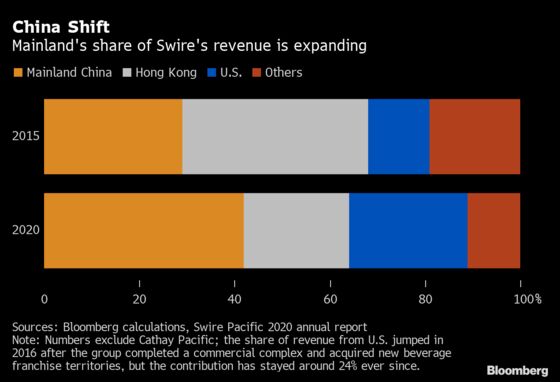 The strategy also represents a return of sorts for the Swire group to the mainland, where the bulk of its operations used to be based -- largely in Shanghai -- for much of the 19th and 20th centuries, according to Robert Bickers, author of "China Bound: John Swire & Sons and its World, 1816-1980."
Having weathered many crises, including World War II when its sugar refinery and dockyard were bombed and 30 of its vessels were sunk or captured, Swire Pacific found itself in a political minefield in 2019. China accused its unit of allowing its workers to participate in Hong Kong's pro-democracy protests and threatened action. Sensing an existential threat, Swire moved swiftly to pacify Beijing, resulting in the exit of the carrier's then chief executive officer Rupert Hogg and chairman John Slosar. Activist investor David Webb called Hogg's resignation the "most appalling kowtow to Peking."  
"What they did really illustrates conclusively that Cathay's future is in China's hands," said Richard Harris, founder and CEO of Port Shelter Investment Management. "China made its views clear about how it wanted Swire to behave." Bradley needs to ensure the group stays "politically correct" to avoid the kind of scrutiny and action other companies in the region are facing from China, he said. 
Swire's response helped Cathay, in which state-owned Air China Ltd. holds almost 30%, win a $5 billion government-led rescue the following year after the pandemic grounded its flights. Yet travel curbs and Hong Kong's strict quarantine rules continue to hobble Cathay Pacific. The carrier reported a record HK$21.6 billion in losses last year and carried 96% fewer passengers in the first half of 2021 than a year ago. 
Speaking to reporters at an earnings conference on Aug. 12, Bradley said his biggest challenge is the uncertainty linked to the pandemic and global trade tensions. 
"Swire has done well diversifying its assets into China," while aviation and marine services remain its near-term weaknesses, said Stephanie Lau, an analyst at Moody's Investors Service in Hong Kong. "Sluggish passenger demand under pandemic disruptions will continue to pose challenges for Cathay, despite narrower losses under prudent cash management."
Besides the business challenges, there are structural issues the group needs to address, said Winnie Peng, professor of finance at the Hong Kong University of Science and Technology, who studies Asian family businesses. One example is a management system that traditionally grooms mostly white, male and Oxbridge-educated graduates to be future leaders -- like Bradley. That template is viewed by many as a glass ceiling that stifles innovation and diversity. 
"They should recruit more people who understand mainland China better," Peng said. Swire Pacific is also conservative, tending to avoid high-risk but high-growth sectors, she added. 
Swire Pacific has been improving its hiring system, with 61% of management trainees recruited over the last decade coming from mainland China and Hong Kong and 30% from the U.K., the company's representative said. It's also likely to have females holding 30% of senior roles by early next year, beating its 2024 target, she said. 
Merlin Swire told reporters on Aug. 12 that he always planned to stay in Hong Kong as chairman for three years before returning to the family holding company John Swire & Sons Ltd. in London as vice chairman and chief executive. He will still remain on the board of Swire Pacific, whose roots date back to 1816.
"The team I'm handing over to is a very, very strong one, and with Guy in the lead I feel really confident," said the departing taipan, a Cantonese word referring to the top leader of a foreign trading house. "I feel very positive about the progress we've made in the Chinese mainland. We've got real momentum both in terms of earnings and opportunities to grow further."