Never Mind the iTariff—Just Brace for Salesforce: Taking Stock
(Bloomberg) -- Here we go again.
The S&P 500 just notched its biggest Monday gain in eight months, with the favorites of the nine-and-a-half year bull market (tech, consumer discretionary, the banks) leading the way.
But the precarious nature of the trade war between the U.S. and China has reared its ugly head yet again thanks to a negatively interpreted interview with President Trump in the Wall Street Journal, where he threatened to impose tariffs of 10 percent or 25 percent on all remaining imports from China if negotiations with Xi fall through.
And so the S&P 500 futures have remained lower (currently down around seven handles) after an overnight session full of jerky vacillations. And yet, Trump has made this threat in the past, and the fact that it comes just days before the G-20 kickoff should give pause to anyone who thinks this is anything more than just the usual "Art of the Deal" posturing.
Reading the full WSJ transcript should raise the eyebrows of any market skeptic too, where his responses are ripe with maybes and if-bombs in regards to the possibility of further tariff action. There's even a part where he is called out for this slip of the tongue: "We've only used a small portion of what we have to use because I have another $267 billion [in imports] to go if I want, and then I'm also able to raise interest rates," to which the interviewer asks, "When you say interest rates, do you mean -- do you mean tariffs, as opposed to interest rates?" Trump, of course, corrected his mistake.
Regardless, the comments from the interview weren't taken lightly and thus the tape is getting hit -- and that's even after today's revelations that Trump and Xi had agreed to reach mutually beneficial agreements on trade when the two spoke over the phone on Nov. 1.
And herein lies why a sell-the-rips strategy has a more popular following right now than a buy-the-dips one. It just seems like ever since the October meltdown took the shine off of the momentum trade, way more traders keep talking about how long we can go (will support hold at ~2,600 on the S&P 500?) versus how high we can bounce (could we break resistance at ~2,800 or, be still my heart, make our way back to the September record high?).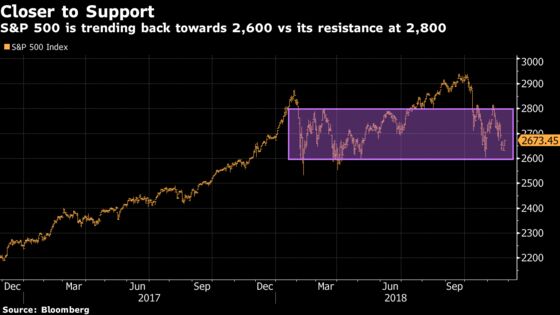 One wrinkle is what Trump said about the possibility of slapping tariffs on iPhones and laptops made in China: "I mean, I can make it 10%, and people could stand that very easily."
But it was the interviewer who brought up Apple, and nothing in Trump's answer appeared anything near conclusive. Even that sentence above was prefaced with a couple of maybes.
Whether the statement about the potential for iTariffs is true or not, I think some will see it as Trump slamming Apple while it's down. The stock is already reeling, falling the most of any FAANG member month-to-date (and down another 2% in the pre-market), from all of the recent signals that the latest iPhone models aren't selling as well as they should be.
And I'd imagine that some casual market followers did a double take Monday when they read headlines that Microsoft overtook Apple as the most valuable company in the U.S., even if that only lasted for a hot second.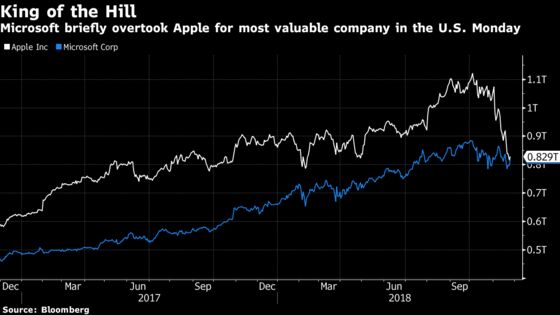 I'd also imagine that our commander in chief putting Apple on the spot like this might needle technology portfolio managers who are either a) getting excited after the S&P 500 Info Tech index went out at highs on Monday, b) taking any bounce in the space to unload more shares that still account for a heavy chunk of their portfolio, or c) sitting on their hands and screaming bloody murder every time a rally fizzles and another overhang enters the sector.
Since the iPhone tariffs aren't close to being etched in stone and are more or less seen as a scare tactic for the moment, the bigger catalyst for tech should be third-quarter earnings from ~$96 billion market cap cloud software bellwether Salesforce.com after the bell.
In fact, this is the one report this week that could either decimate the momentum trade to another dimension (read last Tuesday's column "Fear the Cloud. There's Lots of Room to Pull Back.: Taking Stock" for more) or rewire investors' brains to shift back to strong fundamentals in the software space instead of persistent selling on trading sentiment.
Morgan Stanley is out pumping the latter train of thought this morning: "SaaS underperformed over the last 3 months during the beta sell-off, suggesting more muted expectations into off-quarter earnings. With some companies providing early looks at 2019, we see an opportunity for investors to refocus on fundamentals. Tactically into earnings, we like CRM, VEEV and PLAN." And while there are even more relevant software releases scattered over the next few days than these, including VMWare, Workday, Splunk, and Palo Alto, none have the heft or significance that Salesforce carries.
Benioff's baby has given back more than a fifth of its value since the end of September, massively underperforming the big momentum ETFs and tech indexes. That's an amazing feat given the size of this company, though it just goes to show how far some of these momentum megacap darlings have fallen; Nvidia, which is also a shade under $100 billion, has nearly been chopped in half in the same time frame!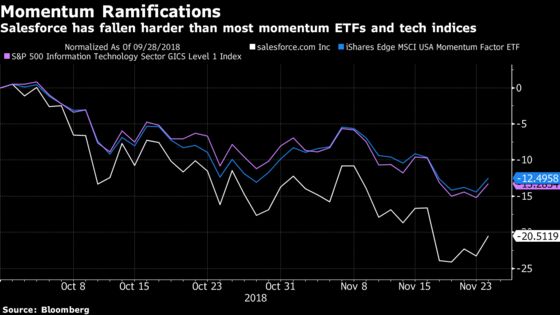 Salesforce's last two EPS prints were complete blowouts, the stock almost always goes up after earnings (up 11 of the last 15 days post-results), and the analysts are still overwhelmingly bullish (38 of the 42 analysts rate this a buy and no one recommends a sell). Options are implying a 7.2% move, but fear has taken hold in the momentum arena and I could see an even bigger tumble than that number indicates if there's any hint of a miss in the billings forecast.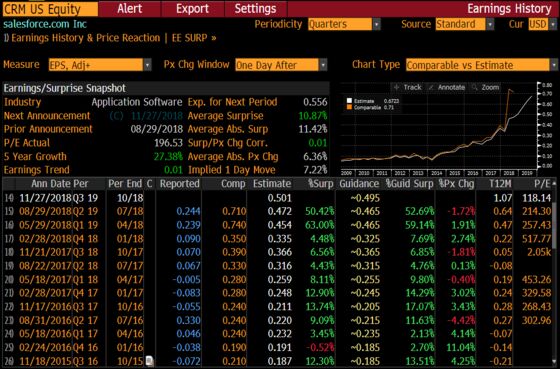 Apple suppliers, like Qorvo and Skyworks, may be weak on Trump's comment that 10% tariffs may be placed on mobile phones and laptops made in China
Any software-exposed momentum stocks ahead of earnings from Salesforce (as mentioned above) and, to a lesser extent, smidcap cloud name Nutanix
Semis with a boatload of companies presenting at Credit Suisse's TMT conference today, from Intel and Texas Instruments to Lam Research and AMD
Travel industry companies after London's Thomas Cook Group flopped by more than 30% at one point after warning on profits for the third time this year
Retailers after misses from The Buckle (shares fall >7%), tinycap apparel name Francesca's (-12%), and sporting goods store Hibbett
Autos on a breather from yesterday's GM-fueled gains and after a report said Tesla saw a sharp drop of ~70% for sales in China
Gene editing companies from CRISPR to Editas on backlash to the shock baby news out of China, with more than 100 scientists reportedly signing an open letter denouncing the researcher's claims
Managed care group with UnitedHealth's analyst day about to get underway; 2019 outlook released last night had a slew of metrics that came in roughly in line with Street estimates
Homebuilders with two home price data points hitting at 9am today: FHFA, Case-Shiller
Here's what some analysts are saying about the iTariff comments:
Wedbush's Dan Ives (outperform, PT $310): "While we are taking a wait and see approach around if this talk is more bark than bite from the Trump administration, we could see a negative knee jerk reaction to this latest tariff news in Apple shares that will add to the agita currently around the name. The long term Apple iPhone story with $50 billion of services remains the key for long-term investors although in the near-term this string of bad news continues to add to the dark clouds over Cupertino's head and thus will weigh on shares."
Baird's William Power (outperform, PT $230): "While we take the negative supply chain comments with the proverbial grain of salt, there's little question that higher iPhone prices due to potential tariffs would likely negatively impact demand and profitability at some level. We certainly acknowledge the near-term risk, but remain positive on the long-term position and would buy on weakness."
RBC's Amit Daryanani (outperform, PT $235 from $240): The analyst doesn't weigh in on the iTariff debate, though does slash estimates for the March quarter and beyond given sustained data points around soft iPhone demand: "We think investors will wait for datapoints/noise level to stabilize before getting more positive on the name (dynamic we think should occur in early 2019)."
Elsewhere, UBS slashed its price target on Micron to $41 (one of the lowest out there and well below the average of $63) as the firm's DRAM pricing view is "playing out more expeditiously." While the analysts said some math would imply downside here is very limited, they still think we're ~3 months out from consensus estimates bottoming and "Street numbers still look >20% too high after our cut - too wide a margin."
Tick-by-Tick Guide to Today's Actionable Events
Today -- IPO lockup expiry: HJLI
8:00am -- CBRL earnings
8:00am -- UNH investor conference
8:00am -- ABBV at Evercore ISI HealthconX conference
8:30am -- Fed's Clarida speaks in New York
9:00am -- S&P Case-Shiller Home Price Index, FHFA House Price Index
9:30am -- INTC at Credit Suisse TMT conference
9:30am -- GILD at Evercore ISI HealthconX conference
10:00am -- Conference Board Consumer Confidence
10:15am -- MSFT at Credit Suisse TMT conference
10:15am -- DWDP at Citi Basic Materials conference
11:00am -- NXPI, ADSK, VZ at Credit Suisse TMT conference
11:30am -- ALK investor day
11:30am -- WP, SIRI, SWI, CTSH at Credit Suisse TMT conference
11:45am -- BMY at Evercore ISI HealthconX conference
12:00pm -- FANG special meeting to vote on EGN deal
12:00pm -- AMD, PFPT, GLW, IAC at Credit Suisse TMT conference
12:00pm -- UAA CEO Kevin Plank at Economic Club of Washington D.C. luncheon
12:30pm -- TXN, INTU, SVMK, JNPR at Credit Suisse TMT conference
1:00pm -- MELI, CHKP, EEFT at Credit Suisse TMT conference
1:15pm -- HUN at Citi Basic Materials conference
1:30pm -- IBM at Credit Suisse TMT conference
2:30pm -- Fed's Bostic, Evans and George speak on panel
2:45pm -- MOS at Citi Basic Materials conference
3:00pm -- CSCO, XLNX, SYMC, GSKY at Credit Suisse TMT conference
3:15pm -- APC at JPMorgan Permian Basin bus tour
3:30pm -- NOW, LRCX at Credit Suisse TMT conference
4:00pm -- ARCE earnings (timing uncertain)
4:00pm -- SAP, MXIM, ALRM, DLR at Credit Suisse TMT conference
4:01pm -- CENT, GWPH earnings
4:02pm -- NTNX earnings
4:05pm -- CRM, SMRT earnings
4:15pm -- VJET, OOMA earnings
4:30pm -- API oil inventories
4:30pm -- BV earnings
4:30pm -- MCHP, PAYC, GRPN, CCOI at Credit Suisse TMT conference
5:00pm -- CRM earnings call
5:00pm -- ADI, ANET, SSNC at Credit Suisse TMT conference
5:30pm -- CY, AKAM at Credit Suisse TMT conference