Netflix User Report Today Will Be Its Most Important of 2018
(Bloomberg) -- Netflix Inc. will make its most important announcement of the year on Tuesday, reporting how many new customers signed up for the world's largest paid online TV service over the past three months.
With tech stocks taking a drubbing this month, investors will be seeking reassurance that the company's disappointing second quarter was just a blip and not a sign of more to come. Netflix has tripled in value over the past three years by posting record subscriber growth that consistently exceeds Wall Street forecasts.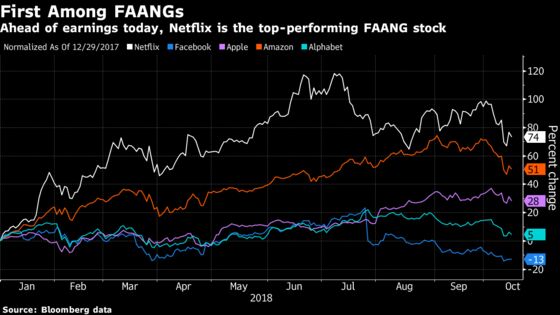 The company has been one of the world's best-performing stocks because investors believe it has years of growth ahead. Most Wall Street analysts parrot the company's projection that it can grow from 130 million customers to 400 million subscribers, if not more.
Better-than-expected growth in the third quarter will keep that narrative alive, while another miss will probably prompt a major sell-off. The stock has fallen 20 percent from its July 9 closing high of $418.97, though some of that is due to the weakness in so-called FAANG stocks, including Facebook Inc., Apple Inc., Amazon.com Inc., Netflix Inc. and Google, whose parent is Alphabet Inc. Netflix is the top performer among those stocks, with a gain of 74 percent this year. Investors seemed optimistic early Tuesday, sending the shares up as much as 1.8 percent in New York trading.
We look at the five biggest factors that will influence whether Netflix beats or misses:
Has Netflix's studio lost its touch?
Netflix's counts on original series to attract new customers. That's why the Los Gatos, California-based company releases multiple new programs every week.
Most analysts blamed Netflix's disappointing second quarter on a light programming slate. That's light in quality, not quantity. While the service released 452 hours of new work, according to a report from Cowen & Co., the lineup didn't include new seasons of any top shows. Nor did many of the new releases seem to break through.
While Netflix blamed the poor quarter on bad forecasting, the company's actions suggested programming was a factor. In the third quarter, Netflix released 676 hours of new programming, according to Cowen, more than double a year earlier. The slate included new seasons of "Ozark'' and "Bojack Horseman,'' the new series "Insatiable'' and "Maniac,'' as well as standup specials from Jim Jefferies and Iliza Shlesinger.
If the quarter's record-setting slate doesn't move the subscriber needle, Netflix may have to reassess its programming strategy.
Has Netflix caught on in Asia?
Among the new shows released last quarter, "Sacred Games'' stands out. The epic drama is Netflix's first original series from India, the world's second-most-populous country. India has emerged as a major priority for Netflix over the past 12 months, a centerpiece of its larger strategy in Asia-Pacific.
The region could buoy Netflix for years to come if the service can convince even 10 percent of its inhabitants to subscribe.
Netflix has staked its future growth on international markets. While the streaming service doesn't say how many customers it has in any market besides the U.S., it does offer a glimpse of its progress with quarterly commentary. In July, Netflix said it is "starting to turn the corner'' in many Asian countries. The company also forecast growth of 650,000 domestic subscribers and 4.35 million internationally.
While investors focus on subscriber growth, Netflix has been trying to get them to pay more attention to another metric -- average subscription prices. Sales growth has accelerated in recent years, jumping to 32 percent growth last year from 23 percent in 2015. That number should top 35 percent this year.
Netflix has accomplished higher sales growth in part by raising prices in most of its largest markets. The company has boosted revenue per subscriber by 14 percent in each of the past two quarters, and reported its biggest quarterly profit ever in July.
Higher prices used to trigger cancellations, but the streaming service seems more immune.
Is Netflix worried about competition yet?
Netflix addresses competition every quarter, typically reiterating some version of the same statement: We aren't worried about growing competition; we are worried about providing the best experience for consumers.
But you have to think Chief Executive Officer Reed Hastings, who once said the company's greatest competition is sleep, is looking around a little more these days. Walt Disney Co. and AT&T Inc., the owner of HBO and Warner Bros., have announced plans to sell new streaming services next year, while Amazon.com Inc. just released its biggest hit yet in "Jack Ryan.''
Netflix will spend how much?
Netflix used its third-quarter earnings release a year ago to forecast spending for 2018, projecting it would spend $7 billion to $8 billion on movies and TV shows. The company has already said it will boost spending in 2019, but investors could get a better sense of just how much the streaming service plans to lay out and whether it will need to borrow again.
Netflix can justify higher spending if growth continues to outpace its forecasts. But investors may wonder where the money is going if Netflix misses again.