Netanyahu's Election Hopes Rope U.S. Into Africa's 'Last Colony'
(Bloomberg) -- Israel asked the U.S. to open a consulate in Moroccan-annexed Western Sahara to help it normalize ties with the North African nation, an official said, a move that would bolster both Morocco's territorial claim and the Israeli leader's re-election bid.
It's not clear if Morocco's government or Washington is on board with Israel's effort to leverage its closeness to the Trump administration to make the U.S. the only major power with a mission there, the Moroccan official said, speaking on condition of anonymity to discuss secret communications.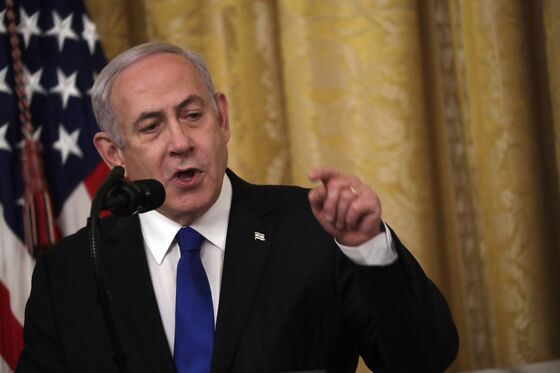 While Israeli Prime Minister Benjamin Netanyahu would be able to point to such a move as evidence of his diplomatic acumen as he struggles to hold on to his job in next month's election, popular support in Morocco for the Palestinians' statehood cause could create significant pushback, despite the prospect for strong business and trade ties. Netanyahu's office, the Moroccan Foreign Ministry and the U.S. Embassy in Morocco had no comment.
Israel's Channel 13 TV reported on Monday that Netanyahu was pushing to have the U.S. recognize Moroccan sovereignty over the Western Sahara, which Morocco seized after colonial power Spain pulled out in 1975, in a step that isn't internationally recognized. Former U.S. National Security Adviser John Bolton opposed Netanyahu's push but the prime minister has raised the matter again, without receiving agreement, it said.
The French website Intelligence Online reported that the Moroccan military took possession last week of three Israeli-made reconnaissance drones sold via France.
Moroccan Foreign Minister Nasser Bourita declined to comment to lawmakers on the Channel 13 report, and in response to criticism of a possible warming of ties with Israel, retorted that Morocco's national priority was the Western Sahara and not Palestine, local media reported.
"We should not be more Palestinian than the Palestinians themselves," the Lakome newspaper quoted Bourita as saying on Tuesday.
Palestinian leaders have campaigned to isolate Israel and have watched warily as its ties with Arab and Muslim states have improved. Arab nations were tepid in their opposition to the Trump administration's Middle East peace plan unveiled last week, which goes further than previous U.S. proposals in favoring Israel's demands, including to annex occupied territory in the West Bank, the heart of the Palestinians' hoped-for state.
In spite of stepped up restrictions on freedom of speech and protests, a Moroccan coalition led by Islamist Prime Minister Saad-Eddine El Othmani, major unions and the banned Justice and Spirituality group announced plans for a street protest on Sunday to oppose Trump's plan.
In recent weeks, four smaller African countries have opened consulates in the Moroccan-controlled parts of the mineral-rich Western Sahara. Moroccan state media hailed the development as affirmation of Rabat's sovereignty over the region, which Morocco held onto throughout a 16-year guerrilla war by the Polisario indigenous group, which ended with a 1991 truce brokered by the United Nations. Morocco claims centuries-old rights to the territory.
A UN plan to hold a referendum to decide the Western Sahara's fate has faltered amid differences over who is eligible to vote. The UN describes the Western Sahara, regarded by many as Africa's last colony, as a non-self-governing territory.
Netanyahu, who has been unable to form a government after two back-to-back elections last year, is laboring hard to distinguish himself from rival Benny Gantz, a former military chief and political newcomer with almost no diplomatic experience. With the March 2 election approaching, he's been flitting across the globe meeting with world leaders, including presidents Donald Trump and Russia's Vladimir Putin. This week he flew to Uganda, where he discussed opening embassies with President Yoweri Museveni, and held a surprise meeting with the head of Sudan's transitional government, who agreed to work toward establishing diplomatic ties.
The Israeli leader's campaign to normalize relations with Arab and Muslim-majority-states is not new, however. Netanyahu has been working for years to normalize relations, trying to create joint fronts against Islamic extremism. Relations with Morocco were never as hostile as with some other Arab countries, and there have been reports in the Israeli press in recent years of diplomatic overtures.
Morocco played a discreet role in brokering the first peace talks between Arabs and Israelis in the 1990s under the late King Hassan II. While Rabat suspended low-key diplomatic contacts with Israel two decades ago at the start of the Palestinian uprising, Israel has a large community of citizens of Moroccan descent, and Israeli tourism to Morocco is permitted, though there are no direct flights between the countries.
These cultural links could mean strong potential for business and trade, especially in tourism, agribusiness and security.