Nestle, Unilever Eye Faster Growth With Price Increases Coming
(Bloomberg) -- Nestle SA and Unilever say they're getting some relief from the downward pressure on prices that has plagued consumer-goods giants, and they're expecting to pass on more increases in coming quarters amid a trend toward higher inflation worldwide.
The Swiss owner of Nespresso coffee and the Anglo-Dutch maker of Ben & Jerry's ice cream were able to raise prices in the third quarter, boosting their growth. Nestle said increases were led by North America and China, while Europe remained a weak point. Unilever's shipments to emerging markets resisted price increases.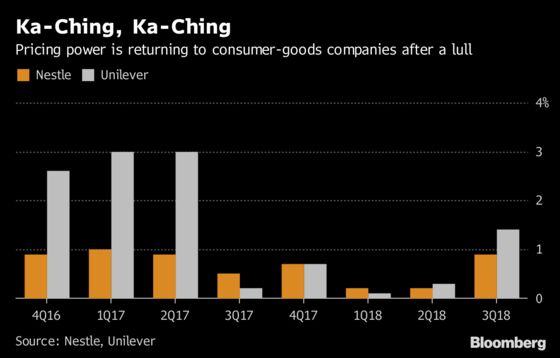 Consumer-goods companies have been under pressure from deflation in Europe, where retailers have grouped together to try boost their purchasing power -- in some cases boycotting goods from the likes of Nestle and Unilever. Price increases are still lagging well behind growth in the volume of items sold, though.
"For 2019 and beyond, it seems like the world, including western Europe, will see some inflationary tendencies that will help us," Nestle Chief Executive Officer Mark Schneider said on a call with analysts.