Nestle Loses Chief for Asia as Unilever CEO Job Looms Large
(Bloomberg) -- Nestle SA's most senior Asia executive, and its top-ranking female, is leaving the Swiss food giant.
Wan Ling Martello, 60, who has been named as a potential candidate for the top job at rival Unilever, plans to take on a new job rather than retiring, according to a person familiar with the matter, who asked not to be identified.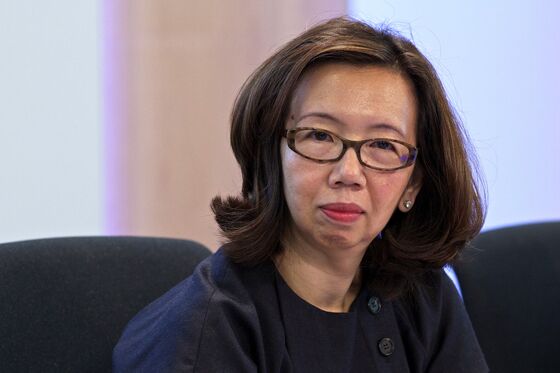 The timing of Martello's departure coincides with the Anglo-Dutch company's hunt for a successor to Chief Executive Officer Paul Polman. Analysts including Andrew Wood at Sanford C. Bernstein have named her as a possible CEO at the maker of Dove soap and Ben & Jerry's ice cream, which began a search nearly a year ago.
"From day one at Nestle, I have always thought I belonged here," Martello said in an emailed statement.
It's the highest-profile departure at Nestle since Mark Schneider took over the top job last year. His reign has been notable for an absence of management upheaval, as the CEO said last year he thought the company had the right people in the right places. Martello, who will step down at the end of this year, will be replaced by insider Chris Johnson.
Unilever said nothing about the search for a successor to the 62-year-old Polman on Thursday as both companies reported sales that were roughly in line with estimates. Analysts have said the failure of a plan to consolidate Unilever's headquarters in the Netherlands, following dissent from some U.K. shareholders, could accelerate his departure.
Nestle rose as 0.4 percent as of 10:33 a.m. in Zurich, while Unilever dropped 1.6 percent in Amsterdam.
Martello is leaving her business zone in good condition. Her region is Nestle's most profitable and fastest-growing, though the U.S.-China trade war has cast a cloud over future prospects. She was hired by then-Nestle CEO Paul Bulcke seven years ago, having formerly worked for Walmart Inc.
"The departure of Wan Ling Martello is a big disappointment," Wood wrote. It "leaves a hole that will be tough for Nestle to fill."
Martello may have other prospects besides the consumer-goods industry. Ride-sharing upstart Uber Technologies Inc. added her to its board last year amid the fallout about its management culture under former CEO Travis Kalanick. She also has served on the board of Alibaba Group Holding Ltd. since 2015. Both companies recently named new chairmen.
With Johnson, Nestle is promoting one of its longstanding executives as activist investor Dan Loeb says the company needs more outsiders. Third Point, Loeb's firm, has invested about $3.5 billion in the Nescafe maker.
"We regret the departure of Wan Ling Martello, and are surprised by the choice of Chris Johnson," wrote Jean-Philippe Bertschy, an analyst at Bank Vontobel AG. "We believe that this represents a temporary solution to guarantee a smooth transition."
Martello is a U.S. citizen but speaks Mandarin and Tagalog, having both Chinese and Filipino heritage.
"We have viewed her as a change agent internally and something of a figurehead for a newer, more emerging-market and digital-savvy Nestle," wrote Martin Deboo, an analyst at Jefferies.
While Nestle's revenue from China is now growing at a mid-single-digit percentage pace, the escalating trade war threatens to damp consumption. Danone said Wednesday Chinese customs officials are becoming stricter on imports of foreign baby food, a business that both the French company and Nestle have expanded into.
Johnson is a 35-year veteran at Nestle and helped implement Globe, a program to monitor costs and boost efficiency. The 57-year-old Los Angeles native was regarded as a candidate when the Nestle CEO job came up. In August he added human resources to his responsibilities.
 
In Thursday's statement, Nestle devoted five sentences to praise Martello's "intellectual rigor," "passion for digital transformation" and ability to inspire people. That contrasts with its farewell to Polman a decade ago when the former Nestle CFO quit the Swiss company after having been passed over for the CEO job.
In that release, Nestle had a one-sentence summary of Polman's achievements, saying he "played an important role" in Nestle's shift to focusing more on nutrition and health.