Nektar Data Has Enough for Bulls and Bears as Debate Continues
(Bloomberg) -- A highly-anticipated clinical update from Nektar Therapeutics at a cancer meeting on Friday failed to impress Wall Street, but showed encouraging complete responses in melanoma patients. Shares rose as much as 5 percent in early trading in New York.
The update had enough for bulls and bears as Piper, with the highest price target on the stock of $125, reiterated its overweight rating. Evercore, a long-term skeptic with a Street-low price target of $34, continues to stay on the sidelines.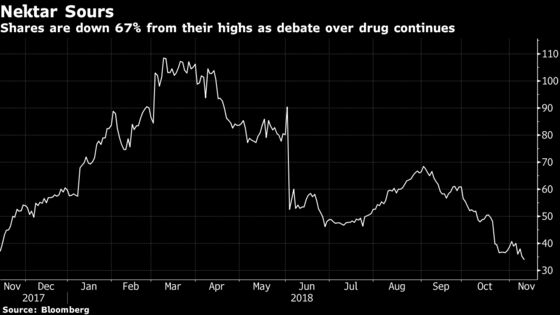 Here's what analysts are saying:
Piper Jaffray, Tyler Van Buren
The presentation and a dinner with management hosted by Piper revealed that "everyone – including us – has been too myopic by solely focusing on overall response rates," Van Buren wrote. A 24% complete response rate, "that could potentially increase to 29% very soon," is impressive at this stage of the study, he said.
Van Buren is now more confident in the success of Phase 3 studies as durable responses seen in Phase 2 appear to be translating to improved median progression-free survival, which has not been yet reached after about eight months of median followup vs 6.9 months for Bristol-Myers' Opdivo alone.
As cross-trial comparisons are difficult, neither bulls or bears are absolutely right or wrong, Schimmer wrote in a note.
"From our perspective, we're seeing a company/investors/analysts spending too much time trying fit the data to the biology to draw a conclusion of efficacy, and are extremely frustrated with oncologists in general who are continually drawing conclusions about uncontrolled combo datasets which are far from conclusive," he said.
That is not to say that the NKTR-214 plus Opdivo combo doesn't work, but Schimmer is skeptical because conclusions are being drawn in ways with which he generally disagrees. He also notes NKTR management has been selling their shares "quite aggressively."
While the data did not meet Mizuho's base-case scenario, as overall response rates remained close to the last update in June, Yang was encouraged to see a deepening in response.
"We continue to see merit in the NKTR-214/Opdivo combo as we have not seen evidence that would indicate NKTR-214/Opdivo confers no benefits to patients over current standard of care," the analyst wrote. Mizuho has a buy rating on NKTR shares and a price target of $81.
HC Wainwright, Debjit Chattopadhyay
Bottom line is that NKTR-214 plus Opdivo "is not that differentiated from the standard-of-care, from an efficacy perspective, at the Phase 2 level, which implies a potential for compression" in overall response rates in a larger Phase 3 study, analyst says.
For the stock to outperform its peers and return to its highs, Chattopadhyay says bulls would need "clear validation," not just in kidney cancer, but also in lung cancer.