NBC Pushes Back Against Ronan Farrow Book's Claims on Matt Lauer Handling
(Bloomberg) -- NBC News issued a detailed rebuttal against claims in a new book that it mishandled harassment allegations against former "Today" show host Matt Lauer and impeded journalist Ronan Farrow's reporting on disgraced Hollywood mogul Harvey Weinstein.
In a memo to staff, NBC News President Noah Oppenheim called Lauer's actions "abhorrent" but said Farrow's new book "takes that undeniable fact and twists it into a lie."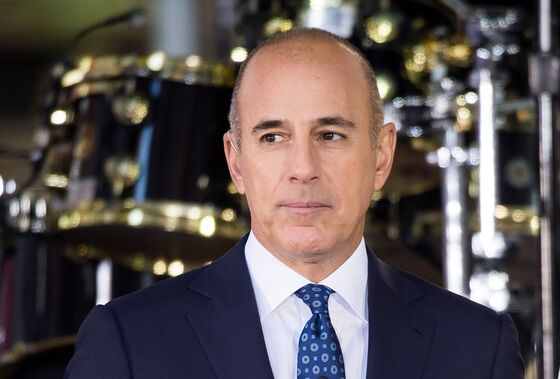 The new book, "Catch and Kill," puts NBC News in the awkward position of challenging a Pulitzer Prize winner. In recent years, Farrow has emerged as a formidable journalist known for taking down moguls such as Les Moonves with his investigative pieces.
Farrow's book found seven allegations of workplace misconduct by Lauer before he was fired and claims that NBC, part of Comcast Corp.'s NBCUniversal, required the accusers to sign nondisclosure agreements.
Oppenheim said NBC's legal team found three examples and they involve employees who "by their own admissions made no complaint to management" and whose departure agreements were unrelated to Lauer and "completely routine."
"There is no evidence of any reports of Lauer's misconduct before his firing, no settlements, no 'hush money' -- no way we have found that NBC's current leadership could have been aware of his misdeeds in the past," Oppenheim said.
Oppenheim, however, added that NBC "should have had a culture in which anyone who knew about his abuse would have felt comfortable telling management."
Lauer was fired in 2017 after a female employee, Brooke Nevils, reported him to human resources. In the book, Farrow writes that Nevils claims Lauer raped her in 2014 and she left the company with a seven-figure settlement. Lauer said last week that the two had a consensual extramarital affair and denied the rape allegation, calling it "categorically false."
In his note to staff, Oppenheim also disputed Farrow's suggestion that NBC stymied his reporting on Weinstein because Weinstein had threatened to expose Lauer's misconduct. Oppenheim called it a "conspiracy theory" based on "third-hand rumor."
"Farrow's effort to defame NBC News is clearly motivated not by a pursuit of truth, but an ax to grind," Oppenheim said. "It is built on a series of distortions, confused timelines and outright inaccuracies."
In a statement, a representative for Farrow said NBC's responses to his book are being "made specifically by those with the most to lose from the truth. We stand by the reporting in the book, 100%, and believe that it discredits this attempt by NBC to rewrite the facts."