Natural Gas Follows Oil, Hits Record Low Prices in Europe
(Bloomberg) -- Natural gas storage sites are filling up faster than usual across Europe as the effects of the coronavirus have left traders looking for places to keep surplus fuel.
The gas market rout has pushed prices at key European trading hubs in the Netherlands and Britain to record lows, testing limits once thought unattainable.
Storage facilities are already almost 62% full and will be topped off in July, according to executives, brokers and analysts surveyed by Bloomberg. After the mild winter, storage was already over half-full before the refills started.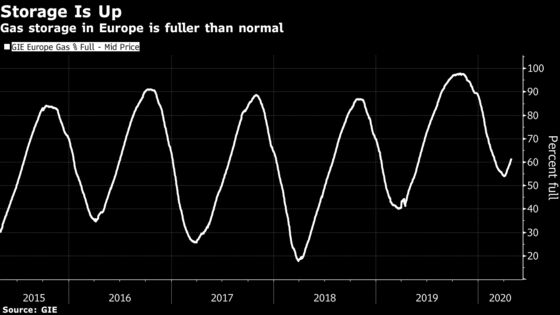 "In general we start to hit full at normal injection rates some time between end-June and end-July," Emstream, a liquefied natural gas brokerage, said in a note. "Some countries with limited capacity such as the U.K. could start hitting distress levels as soon as next month as their fast-cycle storage gets close to full, limiting flexibility."
Storage allows traders to stockpile as much cheap gas as possible when demand for heating falls, using underground reservoirs for gas for longer periods, and tanks in import terminals or even vessels for LNG for shorter ones.
A combination of mild and sunny weather, renewable power and a collapse in industrial demand has pressured gas' share of the power mix this spring.
The Chess Game Behind Russian Gas Exports to Europe
The oil market is waiting output cuts to bite after a deal struck by OPEC and other producers, however even that move may not be enough to alleviate the glut of crude. Gas and LNG though keeps on flowing and the start of reductions in U.S. LNG exports may only help somewhat to ease the oversupply.
Turning the taps off at global gas fields and LNG plants isn't easy. Those that can be stopped take time and money to restart, said Arun Raman, chief financial officer at InfraStrata Plc, which is developing a storage project in Northern Ireland and a floating LNG terminal in the U.K.
"You are going to find a situation where gas prices are going to be quite depressed for a long time," he said in an interview.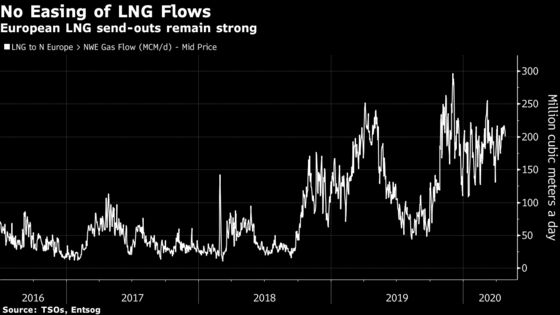 Some relief from the glut will come from the U.S., a so-called swing producer for the ease with which it can boost or reduce output. As many as 20 cargoes from the nation for June have been canceled by buyers, and domestic supply of the fuel may also decline as slumping oil prices dealt a blow to U.S. shale oil production, and subsequently, associated gas as a by-product.
"We have European storage filling by end July–August," Jason Feer, global head of business intelligence at Poten & Partners Inc. in Houston, said by email. "When it fills up, there won't be room for more U.S. LNG, but we already are seeing cancellations so the market is starting to anticipate that."
Read more about storage here:
This Part of the Natural Gas Industry Is Cheering Low Prices