U.S. Natural Gas Holds Gains After Biggest Jump in Eight Years
(Bloomberg) -- Natural gas took a breather after its biggest gain in eight years as forecasts for lingering U.S. cold spurred concern supplies may not be enough to meet winter demand.
Gas for December delivery eased 3.1 percent Thursday morning in Asia after surging 18 percent to settle at $4.837 per million British thermal units, the highest since the "polar vortex" of early 2014 that spread an Arctic chill to the Midwest and East. The volume of trading on the New York Mercantile Exchange was was nearly triple the 100-day average.
Prices have been driven by "a sharp cold revision in the winter weather outlook," said Devin McDermott, a commodities strategist at Morgan Stanley. "We see modest downside from here assuming current weather forecasts, but a very wide range of potential short-term prices."
It was only on Tuesday that gas exceeded the $4 mark for the first time in four years. The fuel surged this month amid concern that stockpiles, at a 15-year seasonal low, won't be enough to help meet winter heating needs, even as production hovers near a record. In North America, gas stowed in underground aquifers and salt caverns in summer months is used to supplement supplies pumped from wells during winter.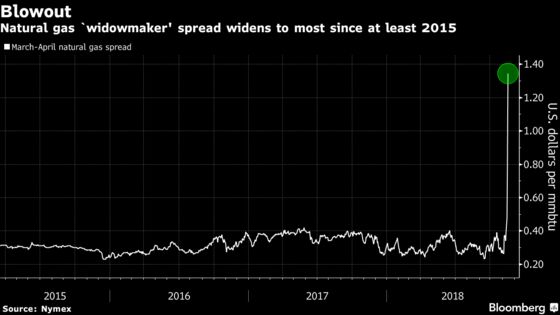 The premium for March 2019 gas over the April contract jumped as high as $1.745 on Wednesday, the widest in data going back to 2015. The March-April spread, dubbed the "widowmaker" for its volatility, is an indicator of how precarious supplies may be at the tail end of winter.
Domestic and foreign demand for American gas has climbed to all-time highs. Cheniere Energy Inc. said Wednesday it started producing liquefied natural gas at its new $15 billion Corpus Christi export terminal in Texas, the third such plant to begin operating in the continental U.S.
Gas is also climbing amid turmoil in international crude markets, where U.S. benchmark prices on Wednesday's snapped the longest run of declines on record.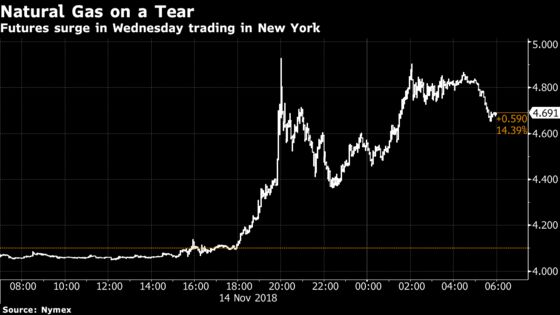 Despite the autumn chill, the magnitude of the latest rally suggests traders aren't just reacting to weather forecasts and supply forecasts, according to Mizuho Securities USA LLC. While money managers are net-long in gas contracts, short positions rose as recently as last week, government data show.
Read More: Traders See 'Amaranth All Over Again' After Natural Gas Spikes
Wednesday's jump "has no basis in market fundamentals," said Bob Yawger, director of the futures division at Mizuho. "It is getting cold, it might snow" and storage is lower than normal, "but that is not why we are 12 percent to 15 percent higher on the day."
The December contract fell as much as 4.1 percent to $4.637 per million British thermal units on Thursday, and traded at $4.687 at 10:33 a.m. in Tokyo.
Read More:
The natural gas rally will probably keep prices supported above $3.80 this winter, Morningstar Inc. says.
Gas volatility has soared to the highest since February as futures climb.
Frigid weather may be choking off gas supplies at a time when the market is most vulnerable to price spikes.
Futures have busted through key price levels that are giving conflicting signals about where the market will head next. 
The gas rally could make LNG sent from Dominion Energy Inc.'s Cove Point export terminal less competitive in Europe and Asia.