Natural Gas Funds Surge as Cold Weather Raises Supply Worries
(Bloomberg) -- As chilly winter weather makes an early arrival in the U.S., spurring concerns that fuel supplies may not be adequate to meet seasonal demand, exchanged-traded funds and notes tracking natural gas futures are heating up.
The $625 million VelocityShares Daily 3x Long Natural Gas ETN, ticker UGAZ, rose 37 percent as of 11:01 a.m. in New York, bringing its gain this week to 79 percent. Meanwhile, the $341 million United States Natural Gas Fund LP, ticker UNG, surged 12 percent and is up 22 percent for the week. In the first 90 minutes of trading, almost 16 million shares of UNG worth $580 million changed hands, the most since 2014 and more than six times the average daily volume over the past 12 months.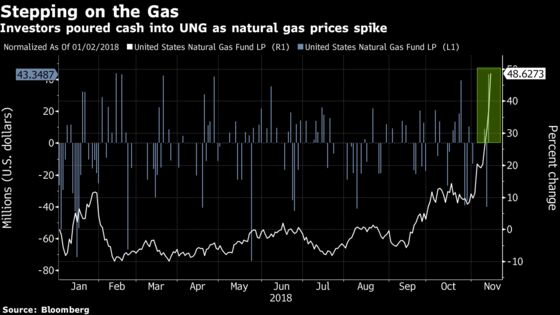 "Natural gas has been ripping higher this week, as a combo of cold weather forecasts, low stockpiles and poor positioning drive the commodity higher," said Dave Lutz, managing director of JonesTrading.
Natural gas soared the most in nine years, climbing past the $4 mark to the highest level since February 2014. Chilly weather has taken hold across much of the central and eastern U.S., with Texas seeing its earliest snowfall ever this week. Another cold blast is set to arrive this weekend, with relief likely coming by Thanksgiving.
"We have low levels of inventory despite production year-over-year reaching new levels," said Bloomberg Intelligence U.S. oil and gas analyst Vincent Piazza. "Compound that with an additional cold spike, and there's quite a concern about not having the capacity to fill those stock piles ahead of peak winter, which really is January and February."