Natural Gas Fiasco Shows It's a Hard Balancing Act in Argentina
(Bloomberg) -- Last week, President Mauricio Macri's government told Argentines they'd have to pay money owed to natural gas drillers after a currency devaluation. Now, in a reversal, the government is putting up the cash itself.
The fiasco points to just how tough Macri has found it to please both investors and voters, not to mention opposition politicians and, now, the International Monetary Fund.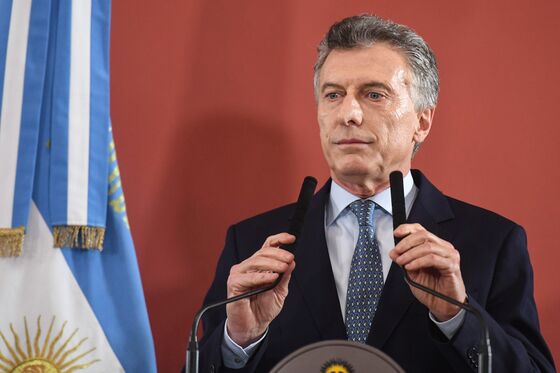 Slip-ups include a televised address in August to calm Argentines over a currency depreciation -- instead Macri spooked markets and exacerbated the rout. There was also a fumbled cutback on energy subsidies in 2016 to narrow the fiscal deficit -- courts reversed the move after the government failed to carry out public hearings.
Now, Macri needs opposition lawmakers to approve his 2019 budget. It already includes unpopular austerity measures needed to secure billions of IMF funding. So when the lawmakers hit back over the gas charges, which would've hurt voters already suffering from weaker purchasing power amid inflation of 30 percent, Macri ceded ground.
But it's a tough balancing act. Any perception that political pressures mean he can't meet the IMF's targets would be a red flag to investors.
Criticism from Macri's former finance minister, Alfonso Prat-Gay, demonstrated how the fiasco has revived old problems.
"The natural gas tariff episode confirms the government isn't engaging in dialog," he said on Twitter. "There's no way out of this tough situation we're enduring without frank, generous and productive dialog."