Brazil's Make-Up Firm Natura Open to Listing in the U.S.
(Bloomberg) -- Natura Cosmeticos SA, which bought the Body Shop in 2017 and now is talks to acquire rival Avon Products Inc., is open to listing its shares in the U.S. as part of the Brazilian make-up company's global expansion.
"It's an evolution that we take into consideration, though it's not in our short-term plans," Chief Financial Officer Jose Filippo said at the Bloomberg Sustainable Business Summit in Sao Paulo. "We're a company that attracts the interest of the international investor, and an ADRs program would certainly allow us to increase our offer and have more access."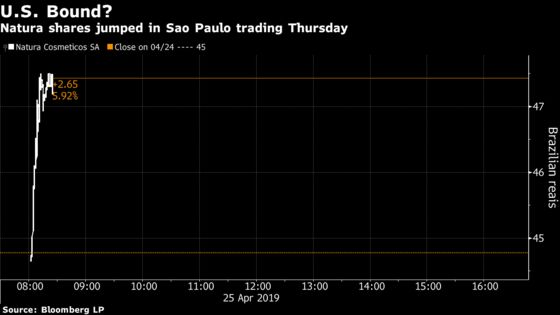 Natura shares rose 9.5 percent to 49.01 reais at 10:57 a.m. in Sao Paulo.
BlackRock Inc., Fidelity Management and Research Co. and Royal Bank of Canada are among Natura's largest holders, beside the control block that's still under the company's founders, according to Bloomberg data.
The company, which controls Australian skincare line Aesop, confirmed last month it's been discussing the potential purchase of Avon. The acquisition "may make sense," Filippo said at the event on Thursday.
"It's a big company with a lot of similarities with us, in terms of direct sales" and "values that we consider important," he said.
The company's solid earnings before interest, taxes, depreciation and amortization -- a key metric known as Ebitda -- is helping it to meet its leverage reduction goal earlier, Filippo said. He reaffirmed the company's forecast that it will cut its debt to 1.4 times Ebitda by 2021. The company had previously said it would reach that level by 2022.