Nasdaq Expects Flurry of Nordic Listings in Final Months of Year
(Bloomberg) -- Nasdaq Inc. expects listings activity on its Nordic stock exchanges to pick up in the final two months of this year, after market volatility led to a significant slowdown in the second half.
Nasdaq's Nordic main market and alternative First North platform for smaller companies are on their way to "somewhere close to a hundred" listings this year, Nasdaq Nordic President Lauri Rosendahl said in an interview in Stockholm. With a total of 66 listings so far this year, that means there is scope for more than 30 additional ones in November and December.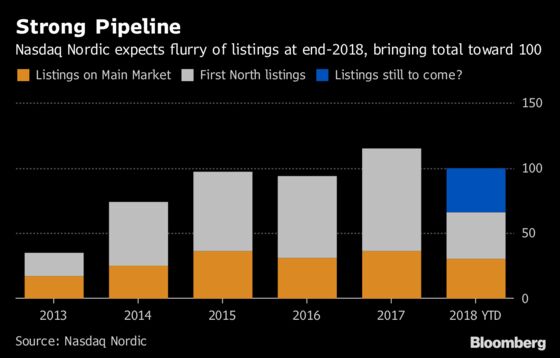 That would bring this year's total to about the same level as in 2015 and 2016, though it would be below the record 115 seen last year. But for that to happen, there needs to be a flurry of listings this month and next. That's because the number of initial public offerings, moves to the main market and spinoffs slowed to just 14 in the second half so far, from 52 in the first half.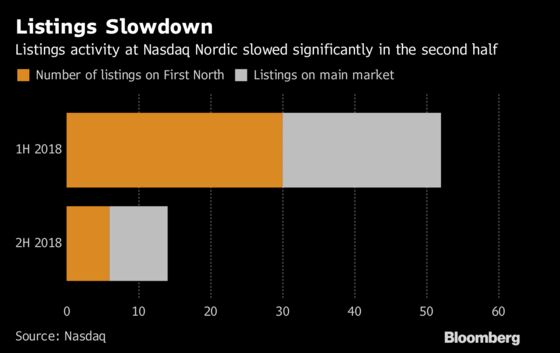 "We have a great pipeline for IPOs, particularly a lot of small and medium-sized companies," Rosendahl said, adding that the outlook for 2019 is "promising" as well. "So we are hopeful that, if markets calm down, we'll see that pipeline moving forward toward public market listings," he said.
Stock debuts so far this year on Nasdaq's stock exchanges in Sweden, Finland, Denmark and Iceland include the initial public offering of Iceland's Arion Banki hf in Reykjavik and Stockholm, and Autoliv Inc.'s listing of Veoneer Inc. in the Swedish capital. That's also where Atlas Copco AB listed its Epiroc AB unit as it split the company in two. But there were also plans that fell through.
Volvo Cars in early September delayed its planned IPO due to the threat of global trade tensions growing more intense. The Swedish automaker's chief executive officer, Hakan Samuelsson, said then that the timing for a share sale was no longer optimal because market conditions had turned unpredictable. In Helsinki, Restamax Oyj's spinoff of staff rental subsidiary Smile Henkilostopalvelut Oy was aborted last month.
While investor uncertainty has increased in the wake of the recent market volatility and concerns about the global macroeconomic prospects, Rosendahl said the outlook for the Nordic region "still looks very promising." It may even just be that markets are now entering a more normal level of volatility after some unusually calm years, he said.
But there are risks, stemming from both the growth outlook and central banks now moving to undo years of easing, he said. Sweden's Riksbank has said it plans to start raising the repo rate for the first time in more than seven years either in December or February.
"The biggest risk to the stock markets is the question of growth in the next 2-3 years combined with the interest rate level that we'll have," Rosendahl said.