Nasdaq Dubai Dealt a Blow as Biggest Company Opts to Delist
(Bloomberg) -- Nasdaq Dubai is about to lose its most valuable stock after DP World Ltd. announced plans to go private.
The departure of the ports operator, which has a market capitalization of $11 billion, will increase the gap in trading turnover between Nasdaq Dubai and the two larger United Arab Emirates exchanges. The value of equities changing hands in January on the platform was close to $117 million, compared with about $1.1 billion at the Dubai Financial Market PJSC and $757 million at the Abu Dhabi Securities Exchange.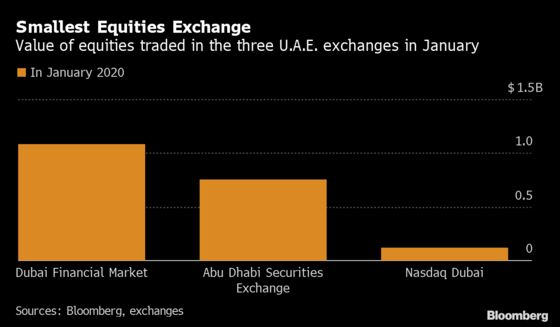 The delisting of DP World, the U.A.E.'s seventh-largest company by market value, according to data compiled by Bloomberg, means the loss of a stock that international investors "follow very closely," but which has suffered from a lack of liquidity, according to Ahmed Hazem Maher, an equities analyst at EFG-Hermes in Cairo.
Nasdaq Dubai declined to comment on DP World's plans. The company is the largest of eight equity listings on the exchange, including two Real Estate Investment Trusts. The board of one of them, ENBD REIT, is also proposing to delist from Nasdaq Dubai.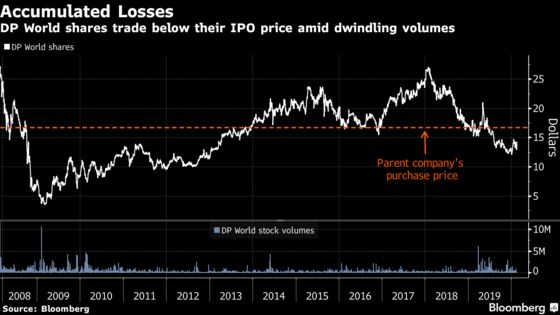 The bourse also operates futures and fixed-income trading platforms, offering investors access to Shariah-compliant sukuks and conventional bonds.
"Nasdaq Dubai should probably start focusing and educating investors on products other than equities," said Marie Salem, head of institutions at Daman Securities in Dubai. "Futures, for example, provide hedging facilities to investors and they're still not common around here. The size of the local market doesn't require having three exchanges for similar products in the same country."