Japan Junk Bond Market Hopes Crushed by Banks Hungry to Lend
(Bloomberg) -- When Aiful Corp. sold Japan's first-ever junk bond to the public earlier this year, it offered a small ray of hope to yield-starved investors in yen assets.
The consumer lender's issuance met the wishes of pension funds and life insurers, with more than $7.2 trillion under management, for whom a high-yield bond market in Japan would ease the pain of more than three years of negative interest rates. With benchmark yields now tumbling toward a record low, the quest for returns is growing ever more urgent.
"As interest rates flirt with ultra-low levels or sink under zero, a huge wall of money from Japanese life insurers and pension funds is desperately looking for yields," said Takayuki Atake, head of credit research at SMBC Nikko Securities Inc. "The emergence of a high-yield bond market in Japan would be a welcome development for investors."
Those hopes have effectively been crushed by another group of yield-hungry institutions: Japanese banks. Awash with a near-record 256 trillion yen ($2.4 trillion) in excess deposits and desperate for even a sliver of margin, Japan's 100-plus commercial lenders are more than willing to lend at rock-bottom rates to any business considering a junk bond.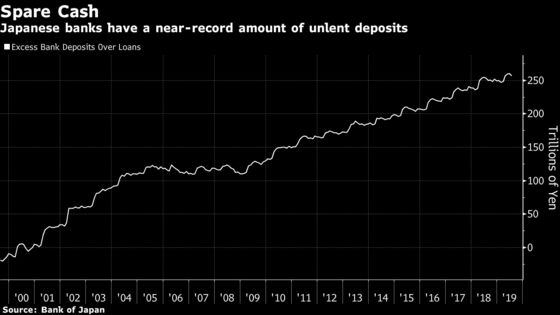 Indeed, no junk-rated companies have followed Aiful, even after Japan's largest pension fund relaxed standards to allow investment in the securities.
Manulife Asset Management, which invests money for the Government Pension Investment Fund, has met with several Japanese firms that it saw as potential high-yield debt sellers, with little success, said Shunsuke Oshida, a senior credit analyst at the firm who attended the meetings.
After the talks, Oshida realized it would be difficult to kickstart the market. "It's the banks," he said. "They're lending at such good rates that companies see no need to issue bonds."
Low rates and a shrinking population have put pressure on Japanese banks' profitability, forcing them to pursue riskier loans and investments, including in foreign securities. That's made them more vulnerable to market swings at home and abroad, Bank of Japan policy board member Hitoshi Suzuki said last month.
"Financial institutions have been actively extending loans to middle-risk firms with relatively high credit risk," Suzuki said in a speech on Aug. 29. "A deterioration in the profitability of borrowing firms is more likely to result in an increase in credit costs."
Bad-loan costs at regional banks exceeded 300 billion yen for the first time in eight years last fiscal year, according to SMBC Nikko. Local lenders' loans to firms with "relatively low creditworthiness" no longer offer adequate returns, the Bank of Japan said in an April report.
The average rate on new domestic loans sank to a record-low 0.577% in May, central bank figures show. An index of banks' willingness to lend to small enterprises is near the highest since Japan's debt-fueled asset-price bubble of the late 1980s, according to the BOJ's quarterly Tankan survey.
Even Aiful's issue can be viewed as the exception that proves the rule in terms of the dim prospects for the high-yield market. While Aiful may sell more bonds, according to Kinya Numata, a manager at the firm's finance section, one purpose of its previous sale was to improve its standing with lenders as it recovers from near-bankruptcy a decade ago.
Aiful sold 15 billion yen of bonds maturing in a year and a half at 0.99% -- still very low by global standards but higher than the minus 0.29% on Japan's benchmark 10-year notes.
"If you can procure a large amount of money by issuing bonds, that means you have more options," Numata said. "That gives you a bargaining chip in negotiations" with banks.