Naira Stability Is Costing Nigeria as Reserves Fall, Yields Rise
(Bloomberg) -- Nigeria's central bank has done a good job keeping the naira stable, but it's paying a high price.
The currency of Africa's biggest oil producer has barely budged this year, weakening less than 1 percent against the dollar. That compares with 14 percent for South Africa's rand and 4.3 percent for major emerging-market currencies, which have been battered by the dollar's strength and trade tensions between the U.S. and China.
The cost for Nigeria has come in the form of falling reserves and higher bond yields needed to prop up the currency and attract portfolio investors. Since peaking in mid-May, foreign-exchange reserves have dropped by $5.9 billion, or 12 percent, to $42 billion.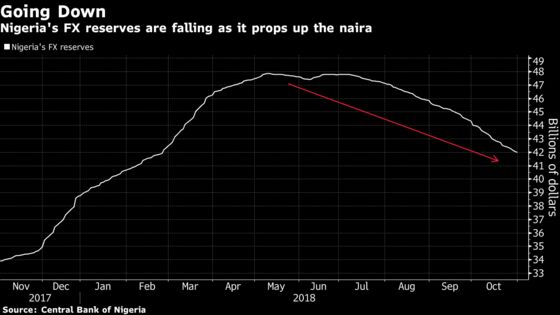 Yields on the government's one-year naira bills have soared more than 450 basis points in that time to 16.6 percent, the highest level this year.
Central bank Governor Godwin Emefiele is content for now. In this environment, Nigeria has to choose between building reserves and having a stable currency and the latter is preferable, he said last month at the International Monetary Fund's annual meetings in Bali.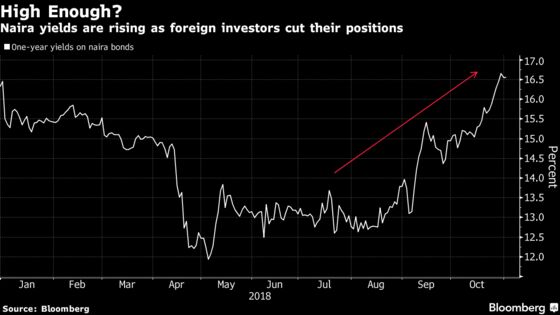 Nigeria's buffers are still large. Standard Bank Group Ltd. estimates that its reserves equate to almost 13 months of imports, which is much higher than the IMF's recommendation of at least three months' worth of cover.
But the central bank might get nervous if they dip below $40 billion, which could happen as soon as this month, especially with investors getting jittery about February's elections, according to analysts at Standard Bank's Nigerian unit.
"What price do we have to pay to keep the currency stable?" they said in a note on Thursday. "The effective yield on the 1-year T-bill is now about 17 percent. With elections just around the corner, we might just need as much as 20 percent to convince fixed-income investors to roll over."