Nafta-Exposed European Stocks Taste Sweeter, at Least for Now
(Bloomberg) -- Sweetener-maker Tate & Lyle Plc, a U.K. household name due to its former glory days of supplying Britons with sugar for their tea, rose the most in three months on Tuesday after President Donald Trump said the U.S. is pursuing a new trade accord with Mexico to replace the North American Free Trade Agreement.
The 97-year-old company's stock has fallen because of questions over Nafta since Trump took office, given that it exports some products to Mexico from production plants in the U.S.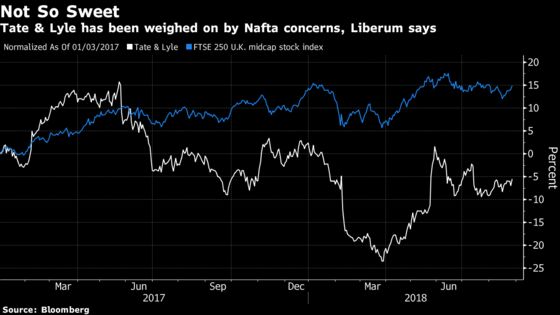 Companies whose products make soda taste nicer are just one European industry exposed to changes in U.S.-Mexican trade relations. Below is a summary of some sectors that could see an impact.
The news is positive for firms like Tate & Lyle as about 10 percent of U.S. high fructose corn syrup production, commonly used in food and drink production, is exported to Mexico, Liberum analyst Nico von Stackelberg said in a note to clients on Tuesday.
Focus will turn later to U.S. peer Ingredion Inc., which earns about 16 percent of its revenue in Mexico, according to data compiled by Bloomberg.
Anheuser-Busch InBev NV sold U.S. distribution rights for Corona, the most popular Mexican beer worldwide, back in 2013. A new U.S.-Mexico trade pact should still benefit the world's largest brewer, Von Stackelberg said. Bud Light is among the popular brands brewed by the company's Mexican arm, Grupo Modelo.
The news is also positive for Heineken NV, Von Stackelberg wrote -- the company's Mexican brands include Sol and Noche Buena.
Carmakers and Parts Suppliers
Carmakers exposed to Mexico followed their American peers higher on Tuesday. The preliminary agreement would allow them to import vehicles duty-free if 75 percent of the content is made in the U.S. and Mexico. That's up from a 62.5 percent minimum under Nafta.
Fiat Chrysler Automobiles NV is among the most exposed to Nafta, earning about 66 percent of its revenue from the trading bloc in 2017, according to data compiled by Bloomberg.
BMW AG, the world's second-largest maker of luxury cars, is building a $1 billion factory in Mexico with capacity to make as many as 150,000 3-Series sedans a year as of mid-2019. A company spokesman said it welcomed the "ambitious agreement." German peers Volkswagen AG and Daimler AG also have plants to build vehicles in the country.
Autoparts-makers are also exposed: Valeo SA got 9 percent of its global original-equipment manufacturer revenue from Mexico during the first half of 2018. German competitor Continental AG and France's Faurecia have plants in Mexico too.
Banks operating in both the U.S. and Mexico will welcome an improvement in bilateral relations. Spain's Banco Bilbao Vizcaya Argentaria (BBVA) earns about 28 percent of net revenue in Mexico, according to data compiled by Bloomberg. The country generates 7 percent of Banco Santander SA's global net revenue.
Gold and silver miner Fresnillo Plc is the only Mexico-domiciled company on the U.K.'s 637 member FTSE All-Share Index, according to data compiled by Bloomberg. The stock rose as much as 3.2 percent on Tuesday.