NYC Urges Masks as MTA Requires Vaccines or Tests for Workers
(Bloomberg) -- New York's mass-transit agencies will mandate that workers be vaccinated against Covid-19 or tested weekly, while New York City will recommend masks indoors and require all new city workers to be inoculated.
The vaccine requirement by the state-run Metropolitan Transportation Authority, effective Labor Day, follows Governor Andrew Cuomo's announcement last week that he planned to require all state employees to get shots or be tested regularly to control cases linked to the delta variant. On Monday, he also ordered tests or vaccines for New York employees of the Port Authority of New York and New Jersey.
At a press briefing, Cuomo urged city and town leaders to follow masking guidance from the U.S. Centers for Disease Control and Prevention, saying the state can't set those requirements without a new law. He warned that if cases rise and local governments don't act, the state would step in. He said lawmakers might restore the emergency authority he had at the pandemic's beginning.
Local leaders should "watch the numbers and adjust as the numbers adjust, but everything should be on the table," he said.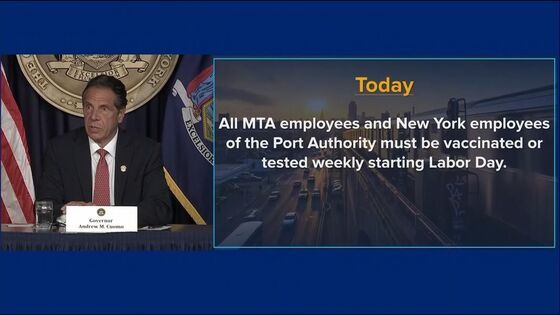 New York Mayor Bill de Blasio said Monday that the city will strongly recommend masks in indoor settings, but stopped short of a mandate.
"Masking is not a substitute for vaccination," de Blasio said.
Last week, de Blasio said all 300,000 public workers would have to submit to weekly testing and wear masks indoors if they didn't get vaccinated by Sept. 13. Workers who defy the order could face dismissal.
Cuomo said if cases and hospitalizations rise, vaccines should be mandatory for public school teachers and public-facing health-care workers at government facilities. He said local governments should take the state mandate as an impetus for their own policies.
"School districts should say today, 'Teachers, vaccine or test if you are in a CDC high-risk area.'" Cuomo said. "School opens in one month. It will be chaos if you wait until then."De Blasio separately noted that this is the last week to get children shots in time for school. The city is launching a $1.3 million ad campaign to get them vaccinated, and adding sites at schools and recreation centers.
Cuomo again urged businesses, including bars and restaurants, to allow only vaccinated people. De Blasio urged private employers to consider vaccine mandates for workers.
"It is in your business interest to run a vaccine-only admission," Cuomo said.
The governor and mayor, who have often battled, held briefings a half hour apart. De Blasio said he hasn't spoken with Cuomo recently.
Cuomo said last week he was still reviewing revised CDC guidance. Previously the CDC recommended only unvaccinated people wear masks indoors. The change is causing "cynicism and confusion," Cuomo said.
New York state's daily new cases of Covid-19 have quadrupled in a month, to 2,143 as of Aug. 1. The state has 738 hospitalized for Covid-19, up from 378 on July 18. Those vaccinated are less likely to catch Covid and unlikely to be hospitalized, Cuomo said.
"If you are unvaccinated, the delta variant should be a major concern for you and you should be worried about it," Cuomo said.