New York, New Jersey, Connecticut Order Hot-Spot Visitors to Quarantine
(Bloomberg) -- New York, New Jersey and Connecticut will require visitors from virus hot spots to self-quarantine for 14 days to avoid a resurgence in cases.
Any state that has a rate of positive tests for infections above 10% will be subject to the quarantine, New York Governor Andrew Cuomo said Wednesday at a press briefing with Governors Phil Murphy of New Jersey and Ned Lamont of Connecticut. The advisory, which takes effect at midnight, affects travelers from Alabama, Arizona, Arkansas, Florida, North and South Carolina, Texas and Utah.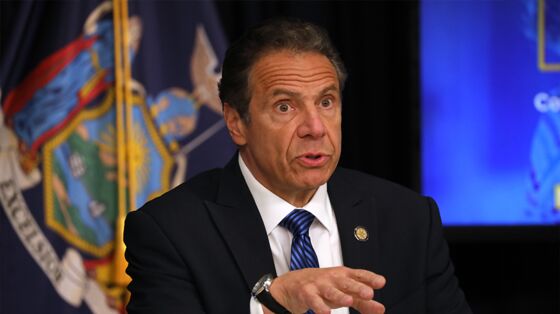 The order also includes states that have positive test rates higher than 10 per 100,000 residents. The infection rate will be calculated on a seven-day rolling average, and the list will be updated daily as rates rise or drop, Cuomo said.
Each state will do its own enforcement. Cuomo said law officers will look for violators during traffic stops. The system won't involve blockades, he said.
"You could argue that every law is the honor system until you get caught," Cuomo said. "You can speed in a car until you get caught, and then you get penalized. You can violate the quarantine until you get caught. And then when you get caught you're in mandatory quarantine and you're fined thousands of dollars."
The first New York violation would carry a $2,000 fine, he said, and the second would cost $5,000.
Murphy said New Jersey had no such penalties, but that Health Commissioner Judith Persichilli had "within her powers the abilities to directly address an individual who is not compliant." He offered no specifics.
"This is not a polite recommendation," Murphy said. "This is a strong advisory."
The announcement is a reversal from March, when Texas and Florida ordered quarantines from the Northeast states where cases were surging. Now those states are on the mend, as others see surges. Arizona, California and Texas all set records for new cases on Tuesday.
"We did a full 180 degrees," Cuomo said of the Northeast. "No one else had to accomplish as much as we had to accomplish in such a small period of time."
Cuomo has said repeatedly that health experts and federal officials were mistaken when they focused on the virus's path to the U.S. from China and not the one from Europe. More than 3 million people came to the country via the East Coast before a travel ban, through New York area airports, which is why the region was so hard hit, Cuomo has said.
"This is what we've got to do to make sure our region stays safe," Lamont said.