India Covid Cases Slow; Thai Death Toll at Record: Virus Update
Prime Minister Narendra Modi has lost a crucial election as India's Covid crisis deepens, with an official in his Bharatiya Janata Party conceding defeat in the populous state of West Bengal. Modi had been widely criticized for continuing to hold mass rallies in the state as infections rose.
Talks starting this week between the U.S. and the World Trade Organization over expanding access to vaccines will focus on how to get them "widely distributed, more widely licensed, more widely shared," according to White House Chief of Staff Ron Klain. U.S. cases dropped to 45,236, the fewest on a Saturday since late September.
Daily deaths in India hit a record 3,689 on Sunday, while the number of cases slowed slightly after the country became the first to cross the mark of 400,000 cases in a day. U.K. Foreign Secretary Dominic Raab pledged to send 1,000 ventilators.
Subscribe to a daily update on the virus from Bloomberg's Prognosis team here. Click CVID on the terminal for global data on cases and deaths.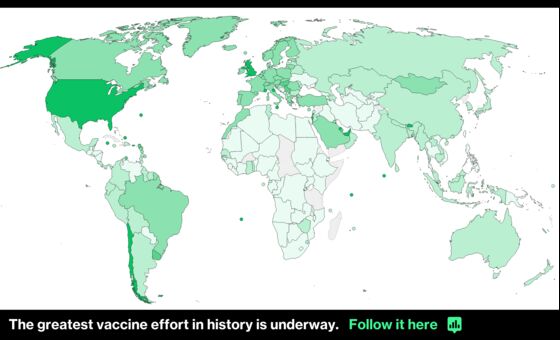 Taiwan Covid Infections Could Spread Beyond Families (1:25 p.m. H.K.)
Covid infections in Taiwan are on the brink of spreading beyond the families of 24 confirmed cases, which includes pilots of China Airlines and employees of the Novotel at Taoyuan International Airport, Apple Daily reports, citing health minister Chen Shih-chung.
It's unlikely authorities will be able to track down the source of the first infection in the cluster, Chen said, with one possible scenario being flight crew infecting hotel workers. Taiwan last reported a flareup in January and February, when infections at the Taoyuan General Hospital rose to 21 cases. Taiwan has 1,137 confirmed cases as of Sunday, including 997 imported cases, 92 local cases, and 9 pending investigation.
Thailand Reports Highest Death Count (1:05 p.m. H.K.)
Thailand reported 31 Covid-19 fatalities, the highest single-day count so far, to total 276 as an outbreak which began in April continues to spread.
It also reported 2,041 new infections, taking the total caseload to 70,425. Bangkok added 675 cases on Monday and remains the epicenter. Most cases in recent weeks came from households with infections spreading among family members or work colleagues, said Apisamai Srirangsan, spokeswoman at the Center of Covid-19 Situation Administration.
India Virus Case Count Slows Second Day (12:25 p.m. H.K.)
The number of confirmed Covid-19 cases in India slowed for a second day to a total of 19.93 million. New infections of 368,147 reported on Monday were the lowest in five days. Casualties stood at 3,417 compared with 3,689 on Sunday.
Vietnam's Clubs, Karaoke Parlors Told to Shut (11:50 a.m. H.K.)
Vietnam, which has among the lowest number of infections in Southeast Asia, has ordered non-essential venues like clubs, gaming sites and karaoke parlors to shut to prevent the coronavirus from spreading after new local cases last week for the first time in a month.
The government also ordered the suspension of events that will attract crowds, the health ministry said but didn't disclose details on the timing of the curbs.
Hong Kong Testing Hits Daily Record (9:55 a.m. HK)
Covid tests in Hong Kong hit a daily record on Saturday after the government made it compulsory for all foreign domestic workers in the city to get tested after finding the first locally acquired case of a Covid-19 variant.
The move has prompted a warning from the Philippines' consul general in Hong Kong not to force foreign domestic workers to get vaccinated because such a move was discriminatory.
The government tested more than 113,000 people on Saturday, 52,000 of which were foreign domestic workers, it said. No tests came back preliminarily positive by Sunday evening.
IOC Estimates 60% of Olympic Athletes to Be Vaccinated, Nikkei Reports (9:48 a.m. H.K.)
The International Olympic Committee estimates that about 60% of 10,000 athletes going to Japan for the Tokyo Olympic Games will be vaccinated, the Nikkei newspaper reported, citing people involved in the games.
The IOC recommends that athletes get the vaccine but it isn't obligatory. The committee reported its estimates at a five-party meeting on April 28, which included the Tokyo government, the Nikkei said.
U.S. in Talks on Vaccine Tech Waivers (3:31 p.m. NY)
Talks starting this week between the U.S. and World Trade Organization over expanding access to vaccines will focus on how to get them "widely distributed, more widely licensed, more widely shared," according to White House Chief of Staff Ron Klain. "We're going to have more to say about that in the days to come."
Trade Representative Katherine Tai is leading the U.S. side, Klein said on CBS's "Face the Nation" on Sunday. "Intellectual property rights is part of the problem, but really, manufacturing is the biggest problem," he added.
India, South Africa and other countries are seeking a WTO waiver to ease intellectual property protections for Covid-19 vaccines. The U.S. administration is reluctant to let countries force drug makers to turn over proprietary know-how.
California Cases Inch Up (2:14 p.m. NY)
California reported 2,254 new cases yesterday, a rate of 4.2 new cases per 100,000, the health department's website said. That's higher than the previous day's 2,094 new confirmed cases. There were 123 deaths for a total of 60,748. The seven-day positive test rate stood at 1.2%. California has administered more than 30.4 million vaccines in total.
Saudi Allows Vaccinated to Travel Abroad (1:44 p.m. NY)
Saudi Arabia will allow citizens who have received both doses of the vaccine to travel from May 17, state-run SPA reported, citing the interior ministry. The country will also fully open its air, land and sea borders from May 17.
Citizens who have received one dose of the vaccine can only travel 14 days later, while those who have had Covid-19 are permitted to travel within 6 months of having had the virus, according to SPA. Citizens under 18 will be able to travel with health insurance and must quarantine on their return to Saudi.
Quarter of U.K. Now Fully Vaccinated (1:29 p.m. NY)
The U.K. has now given a second vaccine to 15.3 million people, more than a quarter of the adult population. Almost 35 million people, over half the entire population have received a first shot.
The vaccine rollout, coupled with months of lockdown measures have led to a sharp drop in cases and deaths. New cases were at 1,671, the fewest since September and only 14 daily Covid-related deaths were reported by health authorities Sunday.
The decline in cases and deaths is allowing the government to ease lockdown measures, and Foreign Secretary Dominic Raab said Sunday that the government would "shortly" announce details on how restrictions on leisure travel will be lifted on May 17.
Gottlieb Expects Pfizer Push for Younger Teens (1 p.m. NY)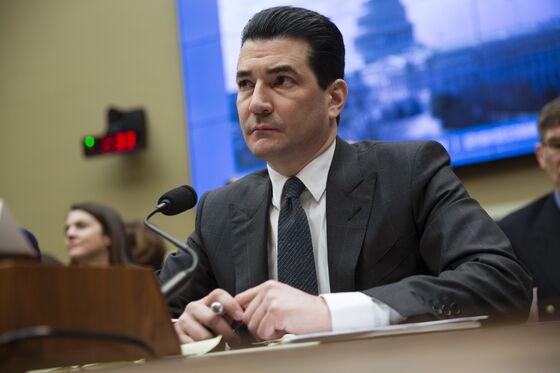 About five million children could immediately get vaccinated if the Food and Drug Administration approves Pfizer-BioNTech's vaccine for use in those under the age of 16, former FDA Commissioner Scott Gottlieb said in an interview Sunday with CBS's "Face the Nation." An additional five to seven million could get vaccinated before the start of the next school year, he said.
"That will be incremental, Americans getting vaccinated against Covid, and hopefully providing protection in an age group that has been susceptible to the infection," he said. Gottlieb is on the board of directors for Pfizer, which last month asked the U.S. Food and Drug Administration to grant emergency use authorization for children ages 12-15.
Indian Drugmaker Blames Government (11:43 a.m. NY)
The head of the world's largest vaccine maker blamed coming shortages in India on the failure of Prime Minister Narendra Modi's government to anticipate a second viral wave, the Financial Times reported. Adar Poonawalla, chief executive officer of India's Serum Institute, told the newspaper that a severe vaccine shortage would persist through July.
He said the government "took it easy" after cases declined in January. "Everybody really felt that India had started to turn the tide on the pandemic," Poonawalla said.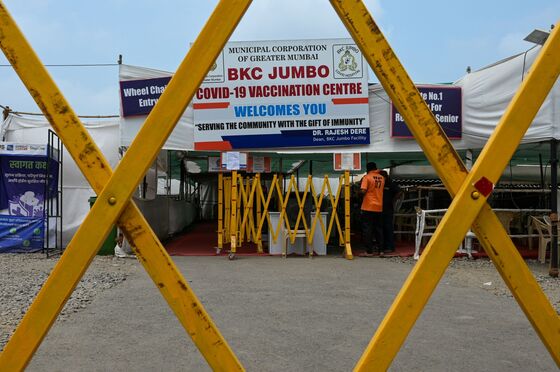 U.S. Could Be Near-Normal By July, Jha Says (11:22 a.m. NY)
Much of the U.S. could "feel close to normal" by July 1 if vaccinations stay on track even at the recent slower pace, said Ashish Jha, dean of the school of public health at Brown University.
"It won't be 100% but it'll be pretty close to what life was like before the pandemic," he said on ABC's "This Week."
Encouraging more people in the U.S. to get shots is key, Jha said. "We're at about 55% of all adults," he said. "We need to get into the 70s and 80s."
While Jha called the pandemic in India "awful" on Twitter, he said existing vaccines remain effective against the main variant detected there.
South Africa Gets First Pfizer Doses (11:05 a.m. NY)
Pfizer Inc. will ship 4.5 million doses of its Covid-19 vaccines to South Africa by June helping the nation ramp up its inoculation drive.
The first 325,260 doses will arrive Sunday night, Zweli Mkhize, South Africa's health minister said in a statement. The government also expects Johnson & Johnson to release stock from the Aspen Pharmacare Holdings Ltd.'s plant in the nation by the middle of May following a verification process with regulators, according to the statement. Aspen is making the J&J vaccines under license.
BJP Concedes West Bengal Election (8:23 a.m. NY)
A BJP party leader conceded defeat in a state election in West Bengal. Prime Minister Narendra Modi has been widely criticized for continuing to hold mass rallies in the state in the run-up to the vote as India's outbreak worsened.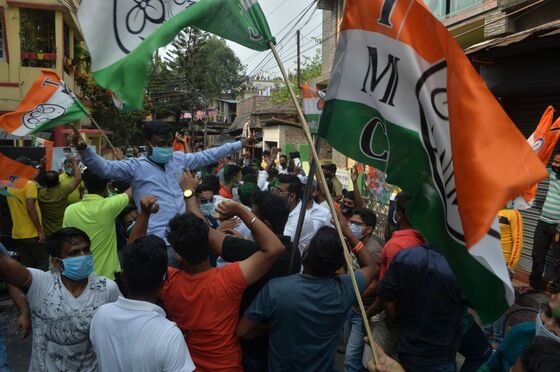 The ruling BJP party is ahead in the state of Assam and Puducherry, but trails also in Tamil Nadu and Kerala, according to trends posted on the Election Commission of India website.
New U.S. Cases Drop Below 50,000 (8:10 a.m. NY)
The U.S. added 45,236 cases, the fewest on a Saturday since late September, according to data compiled by Johns Hopkins University and Bloomberg. It also was the lowest number since Sunday. Reporting by health authorities tends to lag on weekends.
Another 801 people died of Covid-19 across the U.S., more than the daily average of 675 over the preceding seven days. An estimated 3.3 million vaccine doses were administered, the most since the previous Saturday, according to Johns Hopkins data.
U.K. Close to 'Turning the Corner' (7:12 a.m. NY)
Foreign Secretary Dominic Raab suggested only a few restrictions will remain in the U.K. by mid-year, but warned people will need to be careful about social contacts in an interview with Sky News on Sunday.
"We are very close now to really turning the corner and I think we still need to be careful as we go," Raab said.
In a separate BBC interview, he said that "maybe there'll be something around masks" even after June 21, the date set by the government for lifting all restrictions.
Russia Cases Slow (4 p.m. HK)
Russia reported 8,697 new confirmed coronavirus infections, the lowest in four days, raising the total to 4.82 million, according to data from the Russian government's virus response center. In the past day 342 people died of the diseases, the lowest in a week. That brings total death toll to 110,862.