MyoKardia Surges After Heart Drug Clears Late-Stage Hurdle
(Bloomberg) -- MyoKardia Inc. jumped on Monday after its experimental treatment for a rare heart condition met its primary goal and all secondary targets in a key study, delivering a win for the now $4.7 billion drugmaker.
The late-stage trial, dubbed "Explorer," showed patients with hypertrophic cardiomyopathy -- a condition where the heart muscle becomes abnormally thick -- who received mavacamten saw a significant benefit over those who got a placebo. The primary endpoint of the study was a composite functional analysis testing the effect of 30 weeks of treatment on both symptoms and cardiac function. Secondary endpoints included a bevy of scores detailing heart functionality.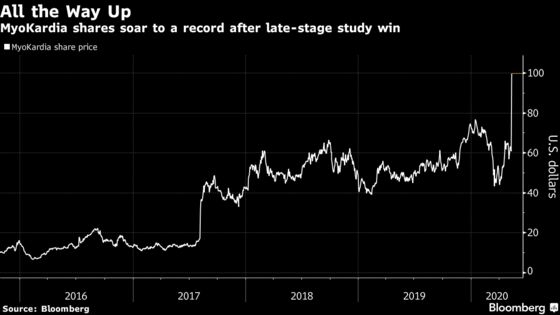 Shares of the South San Francisco, California-based company spiked as much as 71% to an all-time high in New York. MyoKardia stock has more than doubled in the past 12 months even after falling 16% this year through Friday's close. The closely watched Nasdaq Biotechnology Index, a barometer for investor sentiment in the drug-development space, is up 30% in the past 12 months and traded at the highest level since July 2015.
Mavacamten was well tolerated with safety comparable to placebo and consistent with previous studies. Across both the mavacamten and placebo groups, 2% of study participants discontinued treatment, and severe side effects and cardiovascular events were similar in both groups.
The drug's safety has been key for investors. Analysts had expected promising results could lead to more than $3 billion in annual sales by 2027. While the initial data for the trial show promise, investors will want to see more detailed results from the pivotal program. MyoKardia will submit the data to a professional meeting this year and expects to file a marketing application with U.S. regulators in the first three months of 2021.
Cytokinetics Inc., a company studying its Amgen Inc.-partnered drug for chronic heart failure, soared as much as 25% to a decade-high. The duo announced Friday morning that U.S. regulators granted Fast Track designation for the medicine ahead of late-stage results expected later this year.
"Overall, these data hit our home-run scenario" as the safety profile of mavacamten came in better than expected, wrote JPMorgan analyst Anupam Rama.