Mylan Drops Most in Three Years Despite Vow of Shift
(Bloomberg) -- Mylan NV fell by the most in three years on Wednesday, despite vows from executives to do "everything and anything" to reverse the generic-drug maker's flagging fortunes as it nears the end of a strategic review.
The company, which in addition to generic medicines makes the allergy treatment EpiPen, said late Tuesday that its 2019 profits would be far below Wall Street expectations, at $3.80 to $4.80 a share, compared with the $5.02 average of analysts' estimates.
Mylan shares declined as much as 15 percent, the worst intraday drop since February 2016.
The review by Mylan's board of directors has produced little so far, and the company's shares have continued to slide amid wider tumult in an increasingly competitive market for copycat drugs. Including Wednesday's drop, the shares are down about 30 percent since the review was announced in August.
"We have low expectations that anything will come of the strategic review," Wells Fargo analyst David Maris said in an interview. He said Mylan could look at a sale, breakup or going private, among other options. "What we don't know is whether the strategic review was a reaction to a weak stock price in order to get investors interested versus having received any inbound interest."
Chief Executive Officer Heather Bresch said on a call with analysts Tuesday that the board is "looking at everything and anything that could unlock value." The effort is nearing completion, she said. In the meantime, Mylan Chief Financial Officer Ken Parks said the company was looking at different ways of evaluating its financial performance.
"We're continuing to evaluate metrics other than EPS that better reflect how we manage and measure the performance of our business," Parks said on the call.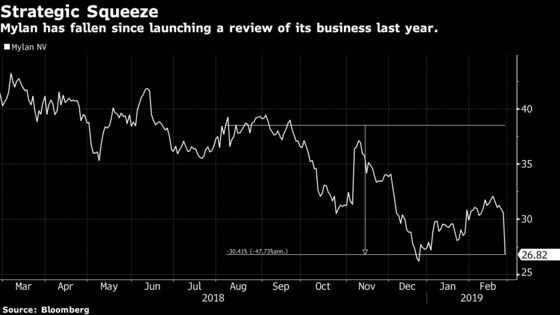 Mylan extended Bresch's employment agreement through April 21, 2024, with a base salary of $1.5 million and an eligible target annual bonus of $2.25 million, according to a Securities and Exchange Commission filing. The drugmaker also extended the contracts of its president, chief financial officer and chief commercial officer through April 1, 2022.
Maris said investors are frustrated with current management. "When there's a risk of giving out below-consensus earnings guidance, should you be really signing a new employment agreement? I think the signing of new contracts is something the market would have liked to have known," he said.
One thing that could limit Mylan's alternatives is its Dutch corporate structure. The company is run from Canonsburg, Pennsylvania, but is incorporated in the Netherlands. A "stichting," a legal entity that shrouds the company, is essentially a takeover defense.
The company has had to grapple with a turbulent generic-drug market, where prices have been falling amid a push by U.S. regulators to get more competing products on the market.
"It's very difficult to look at the U.S. generic market and paint it with one brush," Bresch said on the call. "Portfolios are very different. There's no question that value has been extracted out of the U.S. marketplace. We've seen that daily over the course over the last seven months."
Umer Raffat, an analyst with Evercore ISI, said that the company needs to do more on costs.
"I think the business on the topline is generally fine; it's the cost-structure they need to pin down," Raffat said in an interview.
In the past, Mylan has been able to rely on brand-name products like EpiPen to boost sales. But the injector has faced new competition and manufacturing shortages that have cut into revenue. A generic version of Copaxone, a treatment for multiple sclerosis, had "lower-than-expected" uptake, Mylan said in a release announcing the results.
It has also had manufacturing problems at a major manufacturing plant in Morgantown, West Virginia, which contributed to a 16 percent drop in North American sales.
For investors still in the stock, the best option may be to wait, said Maris. He has the equivalent of a buy rating on the shares.
"It's worth waiting, rather than chasing the stock down, because there's an outside chance that something strategic happens," Maris said.