Mylan Suffers Biggest Drop in Almost Two Decades Amid Drug Pain
(Bloomberg) -- Mylan NV fell the most in 19 years after the drugmaker offered no updates on a strategic review that has been going on for 10 months as its businesses struggle around the globe.
Mylan, one of the world's biggest makers of generic drugs, has faced manufacturing problems, competition and declining prices that have created "unprecedented volatility," Chief Executive Officer Heather Bresch said on a call with investors after reporting first-quarter results.
Amid those challenges, the company's board said in August that it would create a special committee to examine "a wide range of alternatives to unlock the true value." In February, Bresch said she believed the group was "nearing completion." On Tuesday, she told investors to keep waiting.
"There is a tremendous amount of work being done" by the strategic committee, which will provide an update in the "near term," Bresch said on a conference call after the company reported first-quarter earnings.
Investors, however, were in no mood to wait, and Mylan shares fell 24 percent to $21.53. It was the biggest one-day loss since June 2000. It also had echoes of the company's earnings report just three months prior, when the shares lost 15 percent after similar bad news.
"They have a revenue problem, a corporate governance problem, but they're not communicating to the street," Tim Chiang, an analyst with BTIG, said in an interview. "The question becomes, can the company execute on its targets?"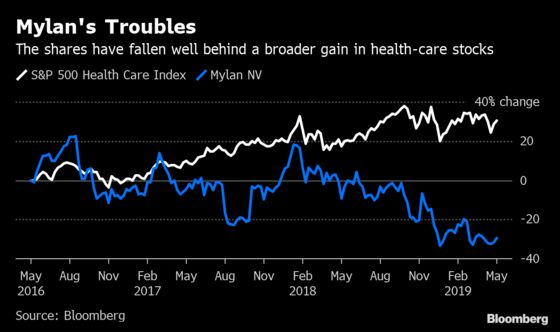 That hasn't caused any analysts who follow the stock to actually recommend selling it. Of the 19 analysts whose recommendations are tracked by Bloomberg, 13 rate the company the equivalent of a buy, and six call it a hold. Chiang rates the stock a buy, with a $35 price target.
Along with the board review, Bresch said the company has created what she called a business transformation office "to bring a disciplined financial lens to the way we're managing our business." She said the group is looking at every product in the portfolio "in order to determine what portions of the business are value-creating versus value consuming and to manage accordingly."
Chief Financial Officer Ken Parks said Mylan is on track to repay more than $1.1 billion in debt this year. The company, which is run from Canonsburg, Pennsylvania, with a legal address in England, listed $13.09 billion in long-term debt at the end of the first quarter.
First-quarter adjusted earnings were 82 cents a share, topping the 79 cents average of analysts' estimates compiled by Bloomberg. The company reaffirmed its 2019 forecast of adjusted earnings of $3.80 to $4.80 a share.
To read the company press release, click here.
To read more details on the results, click here.