Mylan Fails to Deliver as Many on Street Call for Change
(Bloomberg) -- Mylan shares sink as much as 15 percent for the biggest drop in three years after the generic drugmaker's 2019 forecast missed analysts estimates and as manufacturing issues continued to overhang.
Fueling the fire sale in Mylan shares was a downgrade from Bernstein analyst Ronny Gal, who called last night's report a "disappointment." Gal didn't see a "compelling argument for buying the stock" until shares fall more or Mylan is able to execute on strategic plans.
Assurances from Chief Executive Officer Heather Bresch on last night's call that the company was looking at "everything and anything that could unlock value" did little to assuage investor anxieties. Bresch said the board of directors' strategic review committee may be near the end of its review.
Wells Fargo analyst David Maris suggested holders may welcome some changes in management.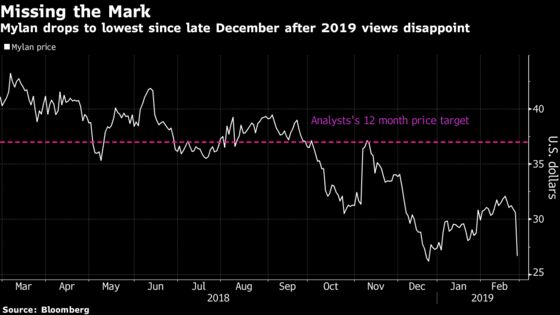 "Our thesis for Mylan was that 2019 will be the breakthrough year for the company. We had that right, but didn't see the margin compression. At the guidance level, we do not see the compelling argument for buying the stock. We are downgrading here and we will come back to it either at lower price or more clarity that the execution is being delivered."
Mylan had a "decent quarter," meeting sales estimates and missing modestly on high SG&A, with revenue outlook more or less as expected, Gal wrote. But "this is where the good news ends," as 2019 will have higher tax rates and won't see any margin expansion.
"Revenue growth is there, but SG&A investment will eat it up."
Cuts to market perform from outperform, price target $33 from $39.
"We are reminded why valuation upgrades without clear signs that things are getting
better can often lead to further stock declines as the valuation does not offset a further disappointing outlook. We are discouraged by Mylan's outlook and apparently investors are as well," Maris wrote, referring to his November upgrade.
Maris keeps his outperform rating, saying last night's 10 percent drop reflects the 2019 forecast whiff, but cuts his price target to $33 from $40.
"Given Mylan has mentioned they are undergoing a strategic review and they stated on their call that they are nearing the end of this process, we believe it may be worth waiting to see what comes of this process." He also sees holders welcoming "further structural and managerial changes."
"We leave 4Q with a stock likely to open lower and more questions than we went in with."
"Drilling through 4Q, there is a glass half-empty versus half-full dynamic (or maybe 'what was' versus 'what could have been'); spend is inflecting upward, but adjusting for that the 2019 outlook is largely in line with buyside. "
"While the range is surprisingly wide at $3.80–$4.80 for 2019, the midpoint is $4.30. Glass half-empty: well below the ~$4.75 where the buyside was at, spend step-up will persist, and ROI on that greater spend (and source) far from clear."
Rates outperform, price target $45 from $50.
Cantor Fitzgerald, Louise Chen
"Lack of earnings visibility makes it hard to tell if Mylan is still built to last."
"We could still become more constructive on the stock if new product opportunities were to exceed expectations and/or U.S. generic drug pricing were to improve."
Reiterated at neutral with a price target of $41.
Bloomberg Intelligence, Curt Wanek
"Mylan's portfolio shift to more complex products further up the innovation chain will come with a cost in 2019. Sales guidance of $12 billion at the midpoint suggests 5% growth and equals our expectations, but bottom-line guidance fell far short."

"While we would like to view guidance as conservative, history suggests otherwise. The good news is that approvals are behind the company, and this is step in the right direction to ignite recent dreary commercial launches. Performance is expected to be weighted to 2H on timing of new-product introductions."