Myanmar Faces Squeeze on Hospitals, Basics as Virus Arrives
(Bloomberg) -- Myanmar, which shares borders with China, India, Thailand, Bangladesh and Laos, is facing the reality of the novel coronavirus, after the government officially confirmed the first two cases of Covid-19 late Monday.

That means making sure its 54 million people can access basic food and supplies while implementing measures to slow spreading, experts say.

It won't be easy. Myanmar's health-care system is far from developed and "the coronavirus pandemic is expected to put significant pressure on Myanmar's medical facilities," the U.K.'s Foreign and Commonwealth Office said in a statement advising its nationals to leave the country. "They may not be able to offer routine care."
Myanmar confirmed on Wednesday a third coronavirus case, a 26-year-old local who returned from the U.K. on March 21. The man tested positive while under quarantine at the Insein Public Hospital in Yangon, according to the Ministry of Health and Sports.

Myanmar's gross domestic product was $71 billion in 2018, about one-seventh of nearby Thailand's, which has 69 million people.
"While working to control the virus outbreak, Myanmar simultaneously needs to make sure the public can buy much-needed commodities at a reasonable price," said Maung Aung, an independent economist. The government must make sure people are able to buy enough rice, food and oil. Quotas and price controls in conjunction with private businesses will help stem potential panic buying, he said by phone from Yangon, where he is secretary of the local transit authority.
"We don't see any possibility of food shortage here, but panic shopping could lead to high potential for spread of this virus," Myanmar's de facto leader Aung San Suu Kyi said in a televised address late Tuesday. There are no plans for lock-downs or closures of businesses and factories, markets and shopping centers. Much-needed public services would remain in operation, she said.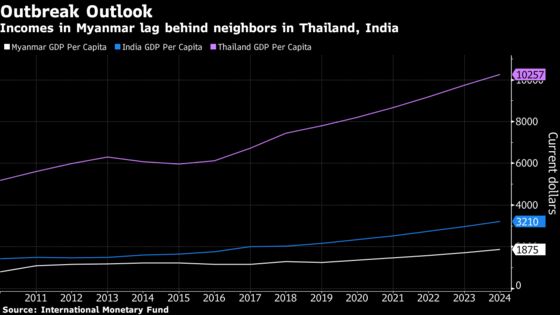 The Central Bank of Myanmar cut its policy rate twice the past two weeks. The second cut, one percentage point to 8.5% goes into effect April 1. The government earlier announced a fund worth $70 million be used to issue one-year loans at a 1% interest rate to affected businesses in the manufacturing, hospitality and tourism sectors. The deadline on tax payments for businesses in those prioritized industries has been extended to September 2020, according to a report by consultancy BowerGroupAsia.

The Ministry of Foreign Affairs announced Tuesday that all visitors and Myanmar nationals from all countries must show a health certificate from respective health authorities that they are free of Covid-19 issued within the past 72 hours before arrival on flights, and they are all subject to 14-days facility-quarantine upon arrival. Diplomats from all nations are subject to 14-days home-quarantine. Myanmar on March 19 closed all land borders with its neighbors to foreigners.
"It's important to know if there are cases, how many and where they are, so control measures can be implemented," said Dr. Marcus Zervos, head of infectious diseases at Detroit-based Henry Ford Health System, who worked on public health and infectious diseases at a Yangon hospital last November. Tightening of travel and social distancing cannot be understated, he said.
Suu Kyi also urged returnees to "cooperate responsibly" with quarantines at designated places and daily reporting about their health to official agencies.

Myanmar has traditionally had fluid borders with some neighbors, including Thailand, enabling millions of people to come and go for jobs in construction, hospitality outlets and food processing -- a large portion of laborers at Thai seafood processing companies are from Myanmar, once called Burma. Thailand declared a state of emergency, effective March 26, as Covid-19 cases have surged.

Myanmar's recent economic development has come because of surge in tourists, and incomes at hotels, tour agencies and many restaurants have quickly dried up with the virus outbreak.
Workers from those industries will certainly face a budget squeeze, meaning that discretionary items such as cars will see little demand, said Soe Tun, president of the Myanmar Automobile Manufacturers and Distributors Association.
"For now, we cannot expect any potential purchase from these sectors," he said.