Musk Urges Chinese Consumers to Buy Model 3 Now to Fund Factory
(Bloomberg) -- Tesla Inc. Chief Executive Officer Elon Musk called on Chinese consumers to order their Model 3 now in an interview with a Shanghai media outlet, warning that a new local plant isn't going to make top-end versions of the sedan any cheaper.
"The high-end versions of the Model 3 -- the price will still remain the same next year," Musk said Monday in an interview with Kanka News, an online news portal for government-run Shanghai Media Group. "I don't want people to hold off on purchasing, or waiting for or expecting a price drop. We need to sell cars today in order to build the factory tomorrow."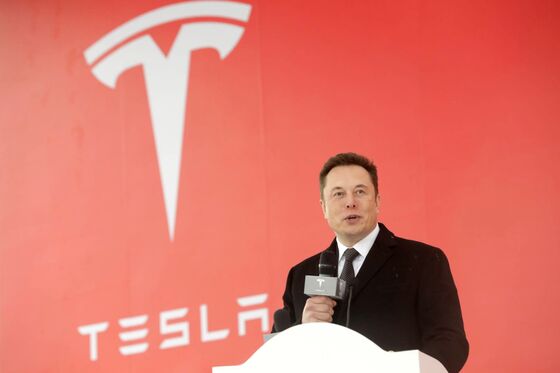 Musk was in Shanghai Monday to mark the official groundbreaking of Gigafactory 3, Tesla's first auto- and battery-assembly plant outside the U.S. Chinese consumers who have reserved the Model 3 can now configure it online, and the company expects deliveries for newly placed orders to start in March.
Tesla plans to keep building the higher-end versions of the Model 3 at its plant in Fremont, California, and to make more affordable versions in China for that market and other parts of Asia.
Musk also played the role of recruiter, making his pitch for job seekers to join the company.
"Somebody who joins today as a junior engineer in Tesla China could one day be CEO of Tesla worldwide," Musk said. "They could have my job one day maybe."