Elon Musk Set to Clear Next Hurdle on the Road to a Moonshot Pay Package
(Bloomberg) -- It took almost 22 months for Tesla Inc.'s market value to eclipse the first of a dozen thresholds required for Elon Musk to unlock parts of his moonshot pay award.
On Tuesday, less than two weeks later, it bounded over the second hurdle, and the third is rapidly approaching.
It's a reality that seemed almost unfathomable two years ago, when Tesla shareholders approved the largest corporate pay deal in modern history, entitling Musk, the 48-year-old chief executive officer, to stock options worth billions of dollars if the firm's market capitalization, revenue and earnings multiplied.
But last year, even as the stock price languished, Tesla quietly reached its first milestones for sales and earnings -- $20 billion in revenue and $1.5 billion in adjusted earnings before interest, taxes, depreciation and amortization -- and said it was on track to meet a third.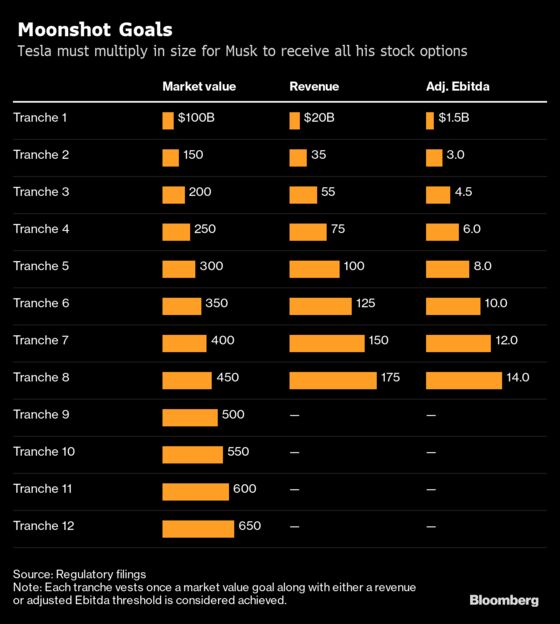 Shares of Palo Alto, California-based Tesla climbed as high as $940.13 on Tuesday, a 431% increase from their 2019 intraday low on June 3. The stock was up 14% to $893 at 11:28 a.m. in New York, giving Tesla a market value just north of $160 billion -- $10 billion more than what's needed for Musk to be eligible for the second tranche of options.
Each tranche that Musk unlocks would give him 1.7 million stock options with a strike price of $350.
But it's not nearly that simple.
The payouts aren't guaranteed just yet -- the first one is probably still months away -- and if the stock falls sharply, Musk could still get nothing. For the first tranche to be released, the average trailing share price over periods of six months as well as 30 days must exceed about $554.80. For the second tranche, the share price must average about $832.30 for the same trailing periods, based on the current number of shares outstanding. And Tesla would still have to meet higher revenue and Ebitda goals.
Musk, the world's 22nd-richest person, could net more than $50 billion from the award if all performance targets are met. He added $13.5 billion to his fortune this year through Monday, giving him a net worth of $41 billion, according to the Bloomberg Billionaires Index.