Musk's Promised 'Tesla News' May Be Low-Cost Model 3, Baird Says
(Bloomberg) -- The pending "Tesla news" that Elon Musk teased in a tweet early Wednesday, and due at 2 p.m. California time today, is more likely to be an announcement about its lowest-cost Model 3 sedan than a revelation about its upcoming Model Y crossover, according to Robert W. Baird & Co.
The electric carmaker's shares rallied 5.7 percent after that cryptic Twitter post and shares rose as much as 1.4 percent before paring in early trading Thursday ahead of the announcement. Since Tesla provided no further clues about what the announcement would entail, speculation ran rife.
Baird analyst Ben Kallo said in a research note that the introduction of the base Model 3, priced at around $35,000, would be viewed positively, and he doesn't expect to see the Model Y unveiled yet at as "management is cognizant of the short-term need to reassure investors on Model 3 demand and margins." Whatever the announcement, it could serve as a catalyst to improve sentiment and drive shares even higher, Kallo said.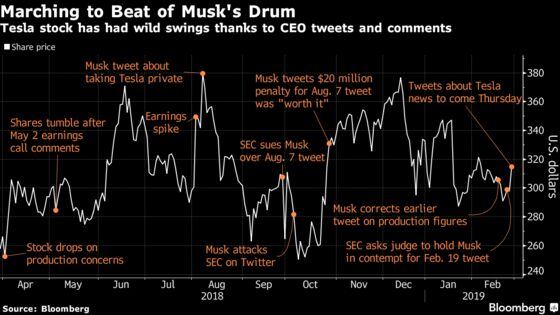 Morgan Stanley analyst Adam Jonas said the news could be related to a convertible bond payment that is coming due on Friday, the Model Y, a new pickup truck, a strategic partnership, the China factory or charging infrastructure development, among others.
While the Tesla news will be coming ahead of the March 1 bond deadline, Kallo noted that the last day for bond holders to decide if they would rather convert to equity or receive cash has already passed. Thursday's announcement "should not be viewed as an effort to bolster shares ahead of expiration," Kallo said.