Musk's Personal Credit Lines Dip as Tesla Looks to Raise Capital
(Bloomberg) -- Tesla Inc. may need more capital, but Elon Musk's debts appear to be in reverse.
The billionaire's personal credit lines from affiliates of Morgan Stanley, Goldman Sachs and Bank of America totaled $507 million as of April 30. That's a $117 million drop from the $624 million as of February 2017, the last time Tesla disclosed the figures.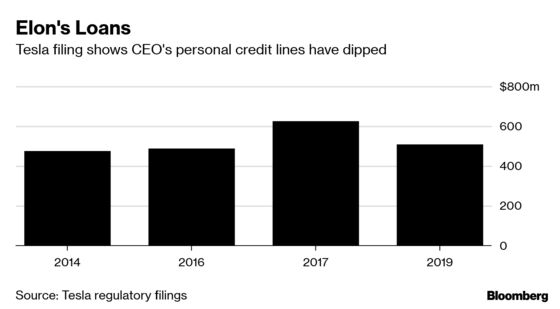 Tesla updated the status of its chief executive officer's credit lines in a filing linked to the electric-car maker's plan to raise about $2 billion through debt and stock offerings. Representatives for the company didn't immediately respond to an emailed request for comment.
While Musk, 47, has a $21 billion personal fortune that ranks him No. 43 on the Bloomberg Billionaires Index, he's relatively cash-poor. More than half of that is from his stake in rocket company Space Exploration Technologies Corp., or SpaceX, and Musk has said he has no plans to sell any shares.
The Tesla CEO has likewise long sought to maintain the size of his stake in the carmaker. Pledging shares is a way to monetize certain investments without having to reduce those holdings. The $507 million in loans are secured by pledges of Tesla's common stock, according to the filing.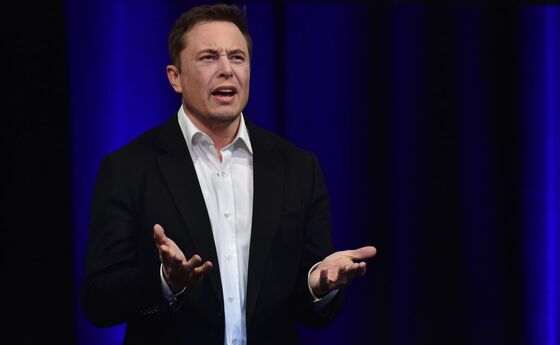 Tesla's proxy statement shows Musk has pledged about 13 million of his Tesla shares, which represent about 40 percent of his holdings. Those pledged shares have a value of about $4 billion at today's share price, suggesting he may have scope to take out more loans.
Still, the latest share sale will dilute Musk's stake in Tesla. The filing notes he has indicated his preliminary interest in purchasing about $10 million worth of Tesla shares in the equity offering -- up to 41,896 shares. But Musk would need to buy about a fifth of the 2.7 million new shares being offered to avoid being diluted.