Musk Cheers Model 3 Drive Output, Says Ignore Distractions
(Bloomberg) -- Elon Musk cheered on progress making a key component of the Model 3 sedan and urged Tesla Inc. employees to pay no attention to distractions in a series of emails sent in the wake of the U.S. suing him for securities fraud.
Musk, Tesla's chairman and chief executive officer, wrote in one of the emails that the company's Model 3 drive team had built more than 10,000 units in a week. That's potentially crucial progress for a company that has been vague about when it'll be capable of building that many complete Model 3s, the first electric vehicle it's tried to mass-manufacture.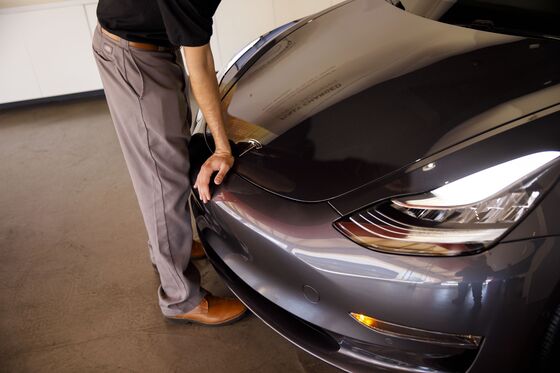 "You're doing an incredible job," Musk, 47, wrote in the subject line of a separate email sent to employees Friday. "Ignore all distractions. One more hardcore weekend and we will be victorious."
Tesla representatives didn't immediately comment on the emails, copies of which were obtained by Bloomberg News. Musk has called the Securities and Exchange Commission's lawsuit unjustified, and the company's board released a statement saying it was "fully confident" in his integrity and leadership.
On Saturday, as Tesla looked to deliver as many vehicles as possible to its centers before the third quarter ends, Musk tweeted that Tesla is looking toward direct delivery to customers' homes or workplaces. He was responding to a Twitter user who wrote of having to get by on "water, coffee, granola bars and and pretzel bites" during a seven-hour visit.
"This weekend could really use some food trucks parked outside!," the Twitter user said.