Murdoch Walks Away From Sky With Sale of Stake to Comcast
(Bloomberg) -- Rupert Murdoch is officially walking away from Sky Plc, the satellite broadcaster he helped build over three decades, marking the end of an era for both the billionaire and U.K. media.
21st Century Fox Inc., which Murdoch controls, agreed to sell its 39 percent stake in Sky to Comcast Corp. after an intense bidding war that lasted months. Comcast was already poised to acquire the other 61 percent of the company, but it wasn't clear until Wednesday that Murdoch would capitulate and sell the remainder as well.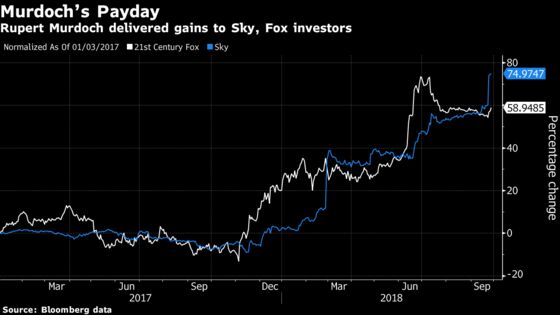 The move lets Fox focus on another megadeal underway: The majority of the company will be sold to Walt Disney Co. in a $71 billion transaction that's slated to close next year. Disney supported the decision to sell Fox's Sky stake, which is worth more than $15 billion. The move will help Disney reduce the amount of debt it has to take on in acquiring Fox.
Fox will get 17.28 pounds a share for Sky, the amount of Comcast's winning bid submitted at an auction on Sept. 22.
"In light of the premium Comcast has agreed to pay for Sky, we and Disney have decided to sell 21CF's existing 39 percent holding to Comcast," Fox said. "We congratulate Comcast on their pending acquisition."
Comcast, the largest U.S. cable provider, is now on track to take full control of the British pay-TV company -- and its 23 million subscribers in five European countries. The new global scale is meant to help it fend off fast-growing streaming rival Netflix Inc. Sky shareholders have until Oct. 11 to tender their shares.
Between selling the Sky stake and a separate plan to unload Fox's regional sports networks, Disney is expected to cut about $30 billion from its acquisition costs. Investors cheered the news, sending Disney shares up as much as 2.4 percent on Wednesday.
"It certainly helps Disney," said Naveen Sarma, an analyst at S&P Global Ratings. "It will bring in a lot of cash that they can use as a part of their closing."
Comcast's Sky bid ended Murdoch's second effort to take full control of the satellite television company he started in 1989. The first was scuttled by a phone-hacking scandal at his U.K. newspapers, and it took him half a decade to try again.
When he did in December 2016, Fox was the only apparent suitor. But then Comcast entered the fray in February this year, sending shares of Sky soaring. Fox's Sky stake is now worth more than double what it was before Murdoch's latest takeover effort.
Sky got its start when Murdoch set up Sky Television, initially a four-channel offering that included sports and movies delivered via satellite. In a speech in Edinburgh that year, Murdoch took on the U.K. television industry, describing the output of the incumbents as a "parading of the prejudices and interests of the like-minded people" who made up Britain's elite.
It was a risky venture that generated heavy losses in its first year and was forced to merge with rival British Satellite Broadcasting in 1990, taking the name BSkyB. It listed in 1994, with Murdoch's company -- then News Corp. -- reducing its stake to 39 percent.
By owning all of Sky, Comcast would likely join a rare club of companies that carry more than $100 billion of debt. The group also includes AT&T Inc. and Verizon Communications Inc., whose big-ticket acquisitions have put pressure on their credit ratings.
Comcast is rated A3 by Moody's Investors Service, with a stable outlook. It has an equivalent A- from S&P, with a negative outlook. Owning all of Sky would put a lot of stress on Comcast's balance sheet, Sarma said.
The U.S. cable giant has said it is committed to maintaining its current rating and paying down debt to return to current leverage levels of around 2.2 times a measure of earnings. By owning all of Sky, leverage would rise to 3.6 times Comcast's earnings before interest, tax, depreciation and amortization, according to S&P.
That may be a tough goal to achieve, Sarma said.
"We don't question their commitment -- we question their ability," he said. "A lot can happen."