Biggest Japan Bank Joins Nomura in Bracing for Archegos Loss
(Bloomberg) -- Mitsubishi UFJ Financial Group Inc. joined a growing list of global financial firms to take a hit from the forced unwinding of bets by Bill Hwang's Archegos Capital Management in one of the biggest margin calls of all time.
Japan's largest bank warned of a potential $300 million loss related to a U.S. client, a hit that's linked to Archegos, a person familiar with the matter said, asking not to be identified discussing a matter that isn't public.
Lenders are just starting to tally the carnage stemming from the liquidation of more than $20 billion of positions linked to Hwang's New York-based family office, which has roiled stocks from Baidu Inc. to ViacomCBS Inc. and cast a spotlight on the opaque world of leveraged trading strategies. Nomura Holdings Inc. and Credit Suisse Group AG have both warned of "significant" losses in the wake of the selloff.
The speed at which Archegos ran into trouble and Wall Street's swiftness in liquidating its positions sent shock waves across capital markets and has prompted regulators in the U.S. to summon banks to get to the bottom of one of the biggest fund blowups in years.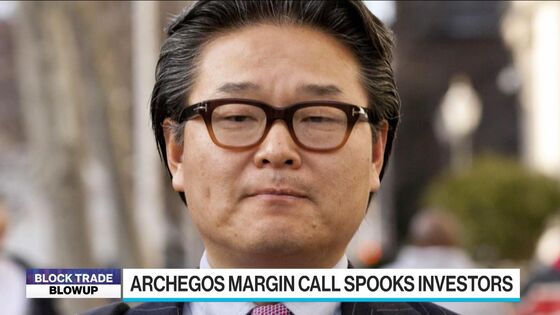 Becoming the latest to signal a potential hit, MUFG's securities arm said in a statement on Tuesday that it is evaluating the extent of the loss at its European subsidiary. The damage may change depending on market prices and the unwinding of transactions. Any loss won't have a material impact on the firm's business capability or financial soundness, it said. A representative for the firm declined to comment beyond what it said in the statement.
A loss of $300 million could badly dent MUFG's European securities operations. The firm's London-based subsidiary, MUFG Securities EMEA, posted a profit of just 84 million pounds ($116 million) in 2019, according to the most recent filing available from the U.K. Companies House. Mitsubishi UFJ Securities reported pre-tax profits from the region of about 17 billion yen ($155 million) for the three quarters through December, a presentation shows.
Shares in MUFG closed 0.5% lower on Tuesday, before the announcement.
Nomura, Japan's biggest brokerage, said on Monday that it had an estimated $2 billion claim against a U.S. client, which Bloomberg identified as Archegos. The Japanese firm has begun assessing the cause of the possible loss tied to the client, said an executive, asking not to be identified.
It's too early to determine how it might impact profit, when Nomura can calculate the extent of any loss and whether it would book a charge for the current quarter, the executive said. Shares of Nomura fell again Tuesday, a day after dropping a record 16%.
For its part, Credit Suisse has said that while it was premature to quantify the size of its loss, it may be "highly significant and material to our first quarter results."
In the U.S., Wall Street banks grappling with the meltdown of Hwang's investment firm spent Monday briefing regulators. The Securities and Exchange Commission summoned the banks for hasty meetings on what triggered the forced sale of stocks linked to Archegos, people with knowledge of the matter have said.
Japan's financial regulator will probably discuss Nomura's risk management and other issues once the firm fixes problems tied to its potential losses, an official said this week.
Meanwhile, Goldman Sachs Group Inc., ahead of the pack on unloading positions, is telling investors the impact on its financial results will probably be immaterial. Deutsche Bank AG said it escaped too. Morgan Stanley, another big player that was still shopping blocks of stock as late as Sunday night, has yet to specify any toll.