MTA Preps Commuting Doomsday Scenario for NYC If No Aid Comes
(Bloomberg) -- Longer wait times for subways, buses and commuter trains. Lane closures on bridges and tunnels going into Manhattan. Ending some Long Island Railroad service. Fare hikes, job cuts and debt piled on just to keep everything running.
That's the bleak future of New York's Metropolitan Transportation Authority, the nation's largest mass-transit system, if the federal government fails to come through with $12 billion of additional aid to cover the budget shortfall its facing through next year because the coronavirus has decimated its ridership.
MTA officials on Wednesday detailed a doomsday scenario lurking for New Yorkers if help doesn't arrive: a potential 40% cut to subway and bus service, a 50% reduction in commuter-rail service, higher fare increases and layoffs. The grim outlook prompted some board members to call upon chief executive officers and real-estate developers in the New York City region to press federal lawmakers to take action to prevent the cutbacks from dealing another setback to the local economy.
"They need to get on the phone and call their friends in Washington and tell them to get off their butts and to meet and to take action and help the people of New York state and the ridership of the MTA," Larry Schwartz, a board member who chairs the agency's finance committee, said during a meeting Wednesday. "Our economic quality of life and way of life is going to be drastically impacted. Our ability to provide essential services is going to be drastically impacted."
Ridership on public transportation systems nationwide has plunged during the pandemic as people avoid crowded buses and trains and work from home. But it has been particularly devastating in New York, one of the cities hit earliest and hardest by the virus. Even with the city reopening, the MTA's subway ridership is down 75% and on the Metro-North Railroad, which connects Connecticut to the city, it is off by 83%. Pre-pandemic ridership may not return until almost 2023.
Absent federal action, the MTA, which had $45.4 billion of debt, as of July 8, may ask its board to vote on the 'draconian' changes in November or sooner, according to Pat Foye, the MTA's chief executive officer. It may include layoffs and wage freezes, moves that will face resistance from labor unions.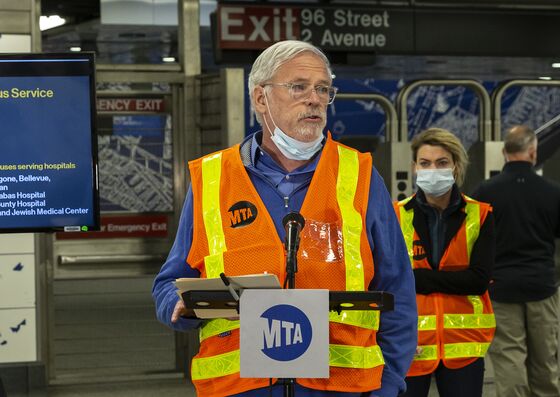 "Without question there is no economic recovery without a healthy MTA and there is no national recovery without a healthy New York," Foye said during the meeting. "That is why investment in the MTA is in the national interest."
Still, the proposed service reductions and fare and toll increases may hamper the MTA's ability to bring more riders back to the system. A 5% fare increase in 2021 would boost the cost of a 30-day unlimited subway and bus pass by $6.35 to $133.35. The agency may add another $1 on top of the planned 4% increase on bridge and tunnel tolls.
The MTA last imposed major service eliminations in 2010 following the Great Recession, ending two subway lines and cutting 32 bus routes.
Still, even the estimated cost savings from the large-scale service pullback and additional revenue from fare and toll hikes won't fully cover the MTA's $16 billion deficit through 2024, said Schwartz, a former secretary to Governor Andrew Cuomo and chief strategy officer at airport concessions company OTG.
"Despite these measures, it will still not be enough," Thomas DiNapoli, the state's comptroller, said in a statement Wednesday. "Borrowing for operations will be necessary and push debt-service costs to more than a quarter of every dollar of revenue."
The MTA already planned to cut overtime, reduce consulting contracts and redirect some revenue originally pegged for capital projects. Other potential changes include deferring payments to pension plans and wage freezes. Service reductions may result in 8,350 permanent job cuts.
Labor unions indicated they'll resist such changes for their workers, especially after more than 130 MTA employees died of Covid-19.
"We've paid with blood," said John Samuelsen, a board member and president of the Transport Workers Union Local 100. "To come and ask us to step up by opening up our contacts or by bargaining in some concessionary fashion is just utterly unthinkable."
The MTA serves a population of 15.3 million people in New York City, the southeastern part of the state and Connecticut. It has the largest bus fleet in the U.S. and more subways and commuter-rail cars than all other transit systems in the nation combined.
"The New York way of life is at stake right here, the ability to go out and get on a bus or train and get where you need to go," said board member Andrew Albert. "This should not be lost on Wall Street, on real estate and the other thousands of employers that have thousands and thousands of employees who rely on this miracle of a transit system which other cities envy and could not even hope to build."