Moynihan's Prediction Turns True in SunTrust, BB&T Mega Deal
(Bloomberg) -- Bank of America Corp.'s Chief Executive Officer Brian Moynihan hit the bulls-eye when he said last month that there could be another round of bank consolidation in the U.S.
Less than three weeks after making that statement at the World Economic Forum in Davos, two of the country's largest regional banks said they had reached an agreement to combine. BB&T agreed to pay $28.1 billion for SunTrust's equity in the all-stock deal announced Thursday.
The deal is the largest bank merger since the financial crisis when Bank of America Corp. agreed to buy Merrill Lynch & Co. in 2008 and a group led by Royal Bank of Scotland's $100 billion purchase of ABN Amro, according to data compiled by Bloomberg. It sets the tone for more combinations on either side of the Atlantic.
Moynihan is not alone in forecasting more banking M&A. Ernst & Young expects a flurry of transactions this year, fueled by easing regulations and the U.S. tax overhaul, which helped lenders build a war chest to spend on acquiring new clients and technology, the financial advisory firm said in a recent report.
Financial advisers are also predicting more banking consolidation in Europe as lenders look at ways to better compete against their U.S. counterparts and address their battered equity valuations. The concept of creating a European banking champion has been taking shape, at least in the imagination of top finance executives in the continent.
"The one thing that matters in banking is size," UBS Group AG Chairman Axel Weber told Bloomberg last month, pointing to how Wall Street firms have come back stronger from the financial crisis. "European banks need to reinvent themselves."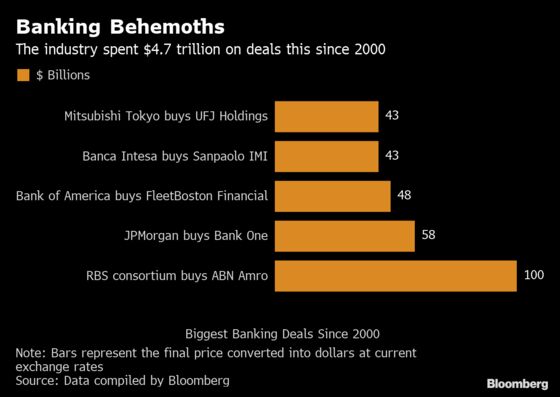 For Moynihan, who is pushing his investment bankers to win more deals, the ideal scenario would have been for his bank to have advised on this mega deal. Unfortunately, RBC Capital Markets and Goldman Sachs Group Inc. claimed those credits.