Most Profitable India Cement Maker Reopens But Sees Demand Crash
(Bloomberg) -- Star Cement Ltd., the most profitable maker of the construction material in India, saw demand fall 80% after authorities partially lifted the world's biggest lockdown.
The company, which restarted its factory in Guwahati with about 30% of workers using as much as 20% of capacity, expects a revival in demand only after September, Chief Executive Officer Sanjay Gupta said in a phone interview. Traditionally, the monsoon season from June through September is slow for cement makers and Gupta said it will take until then for the impact of the lockdown to blow over.
"That too would depend on the impact on overall construction activities, and on how migrant laborers, who have gone back to their villages, will manage to come back," Gupta said.
Prime Minister Narendra Modi imposed a nationwide lockdown on March 25, and while some sectors were allowed to resume operations about three weeks later, companies are struggling to transport raw materials and their finished goods. Construction is the biggest job-creator in the country, which faces massive unemployment and a rare economic contraction in the coming quarters of the year started April 1.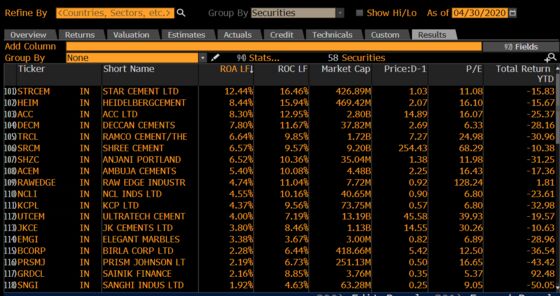 The first and last quarters are generally the best for Star Cement, Gupta said. The Kolkata-based company recorded a 12.4% return on assets this year, the highest among 58 peers tracked by Bloomberg. Star Cement's shares have fallen about 10% this year, compared with an 18% drop in the benchmark index.
The firm is awaiting approval to reopen its other factory in Meghalaya, and has requested the government to allow half the workforce to come in.
India's entire cement industry will dispatch about 30% less this year than in 2019, if the lockdown was lifted on May 3 as announced earlier, Gupta said. He joins entrepreneurs including Sajjan Jindal in seeking a quick reopening of Asia's third-largest economy. The government extended the stay-at-home directive on Friday for another two weeks.
"I think it's high time the government allowed normal economic activity to continue," Gupta said, "with precautions like social distancing and proper hygiene."