Most Crowded Trade Gets Biggest Test Since Selloff: Taking Stock
(Bloomberg) -- Everything is looking green so far, a welcome change for the longs who saw the S&P 500 precariously tumble towards session lows at the end of Monday's session and close ~15 handles below the 200-day moving average.
Europe acts well, with the Stoxx 600 up ~0.7% in a move to brush off the huge whiff on the German ZEW (investor expectations -24.7 vs survey -12.0), a warning from consumer staple giant British American Tobacco, and a big decline in shares of truckmaker Volvo after it said it may have a material cost on its hand from an emissions control component issue.
China's stock market is the one anomaly, as the Shenzhen Composite index slipped 1.9% on worries over forced stock sales, a negative sentiment read-across that may have led to Tencent (the "T" in the crowded BAT complex) tumbling by more than 3% at one point in Hong Kong.
Banks continue to reel with each earnings report, as Bank of America's near 2% drop helped send the streaking BKX to its first close below 100 in almost a year. Morgan Stanley just shot up ~3% in early reaction to the numbers; Goldman Sachs is up next
Building products after $2.2 billion market cap JELD-WEN Holding, a maker of doors and windows, plunged ~13% last night on soft preliminary numbers, citing lower-than-expected sales in North America and Europe
Transports, with truckers in focus after a mixed bag from JB Hunt (Morgan Stanley sees potential positive read-across for Knight Transportation and negative for CH Robinson) and rails in focus as CSX is first out of the gate with earnings for the group post-market
Managed care sector may outperform after strong numbers from UnitedHealth
Consumer staples, which led all S&P 500 sectors on Monday, may follow Walmart's trajectory (initially lower by ~2.5%, now flattish) as the Street digests all of the new forecasts
Large-cap tech with Adobe climbing almost 6% last night on stronger-than-expected revenue outlook and Netflix (as mentioned above) & IBM set to report after the bell
Semis with Marvell's investor day in the morning and results from semicap equipment name Lam Research tonight; note Evercore ISI hit the space yesterday with a downgrade of peer KLA-Tencor and price target slashes all around
Fool Me Twice in the Most Crowded Trade?
Today at 4:05pm, a forward-looking timestamp that was the subject of last Friday's Taking Stock, is when everything might change as Netflix kicks off third-quarter earnings for the FAANGs. Options currently imply an ~11% move on the results (see our preview).
The $145 billion market cap streaming titan disappointed in a big way last quarter, and everyone seems to be on the same page that they can't have a repeat this go around, or else capitulation may ensue.
It feels a bit like the old saying "Fool me once, shame on you. Fool me twice, shame on me," but magnified by a thousand given that Netflix is part of the most crowded trade (BofAML's October fund manager survey suggested "Long FAANG+BAT" remains the most crowded trade for the ninth straight month) and at a time when growth and momentum is being tested like it hasn't in a very long time.
If the subs print dares to miss whispers for the second quarter in a row, all bets are off and it's altogether possible that we see tech bulls running for the exits in droves, and for days on end -- our tally of sell-side consensus comes in at 673k U.S. and 4.42m international for the 3Q and 1.64m U.S. and 5.54m international for the 4Q.
If subs are a beat, we could see a relief rally across the sector. That said, momentum appears to be on the side of the bears in the interim (Netflix is down 11% in October vs the revamped S&P 500 Communication Services index down 5.7%), so don't be surprised to see hand-over-fist selling into any upside rip.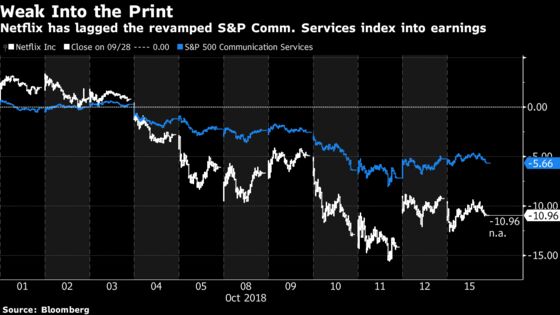 The FAANGs are coming off a rough session, with the NYSE FANG+ Index dipping 1.4%, or more than double the loss of the S&P 500. A pre-market note from Goldman talking about signs of rapidly slowing consumer demand in China, and how that lowers the odds of a beat-and-raise quarter for Apple, didn't exactly help set a positive tone to start the week. A disappointing result out of Netflix on any major metric will only make matters worse.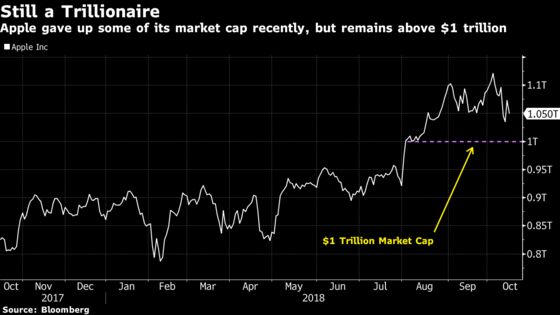 Notes From the Sell Side
Morgan Stanley, which crushed the semiconductors space in early August with a sector downgrade, says the group is "by no means out of the woods," but the selloff may be getting overdone in the near term as the median stock has already fallen by 28% from peak vs a 30% decline seen in the 2015 correction.
Elsewhere in chips land, Nomura Instinet says its too late to capitulate on the semicap equipment stocks given the deep selloffs, though cuts targets on Applied Materials, KLA-Tencor, and Lam Research (reports tonight) as fundamentals are "still pointing south" and a survey of global equipment vendors indicates equipment sales won't bottom until the March quarter
And Keybanc previews earnings for the semis, calling for a cyclical correction to create headwinds for broad-based names, downgrading Integrated Device to a sector weight and slashing estimates on Monolithic Power
Facebook got two positive initiations: 1) Rosenblatt starts coverage with a buy and price target $213, recommending clients to buy the stock ahead of the 3Q print as the anticipated shortfalls are already baked in; 2) Loop Capital launches with a buy and a target of $210 due to an overly conservative forecast: "We doubt FB's growth slows as dramatically as the guidance suggests"); they also initiate on Snap with a hold, noting that "recent quarterly DAU decline is concerning and may portend lower revenue."
And pot stock Tilray is moving higher in the pre-market after Benchmark initiates shares with a buy and a Street-high price target of $200, which implies more than 20% upside from the last close. They cite an "enormous" opportunity in the international markets, a capital infusion that will accelerate production capacity, and a competitive edge from its strategic alliance with Novartis and supply pacts with major Canadian pharmacies.
Tick-by-Tick Guide to Today's Actionable Events
Today -- U.S. debuts new two-month Treasury bill
Today -- PRU likely sheds SIFI designation at FSOC hearing
Today -- IPO lockup expiry: EAF, SURF
7:00am -- MS earnings
7:20am -- JNJ CFO Joseph Wolk on Bloomberg TV
7:30am -- GS, DPZ earnings
8:00am -- GWW, PLD earnings
8:00am -- CMA earnings call
8:30am -- MS, BLK, JNJ earnings call
8:30am -- FTS investor day in New York
8:30am -- Starwood Capital CEO Barry Sternlicht on Bloomberg TV
8:40am -- PGR earnings (roughly)
8:45am -- UNH earnings call
9:00am -- WMT investment community meeting
9:00am -- MRVL investor day
9:05am -- SoFi CEO Anthony Noto at Bloomberg's Sooner Than You Think conference
9:15am -- Industrial Production, Capacity Utilization
9:30am -- GS earnings call
10:00am -- NAHB Housing Market Index, JOLTS job openings
10:00am -- DPZ earnings call
10:20am -- NDAQ CEO Adena Friedman at Bloomberg's Sooner Than You Think conference
10:30am -- New York State Assembly joint hearing on use of marijuana
11:00am -- GWW earnings call
1:30pm -- SAP CEO William McDermott on Bloomberg TV
2:40pm -- NCLH CEO Frank Del Rio on Bloomberg TV
4:00pm -- TIC Flows
4:01pm -- CREE, IBKR earnings
4:02pm -- CSX earnings
4:05pm -- NFLX, IBM (roughly), LRCX, TACO, UFPI earnings
4:15pm -- Fed's Daly speaks at Wellesley College
4:15pm -- UAL earnings
4:30pm -- API oil inventories
4:30pm -- CSX earnings call
4:30pm -- ARK Invest CEO Cathie Wood, Pantera Capital co-CIO Joey Krug, Coinbase's Christine Sandler at Bloomberg's Sooner Than You Think conference
5:00pm -- IBM, LRCX earnings call
6:00pm -- NFLX earnings call
6:30pm -- BHP Sept. sales
8:10pm -- ADTN earnings (roughly)
Tonight -- IPOs to price: Riley Exploration-Permian (REPX)