Most Big U.S. IPOs Are Still a Better Bet Than S&P for 2018
(Bloomberg) -- Fifteen of the year's 25 biggest U.S. initial public offerings remain in positive territory despite November's slushy market. No such luck for investors in the other 10.
The 25 IPOs that raised the most in 2018 closed Friday up 4.2 percent on average from their offer date, according to data compiled by Bloomberg. That bested the 1.5 percent loss for the S&P 500 index this year and the 1.75 percent decline in the Dow Jones Industrial Average. Even with the hits taken by technology stocks, the 25 biggest IPOs still gave investors a better return overall than the Nasdaq Composite Index, which is up 0.5 percent.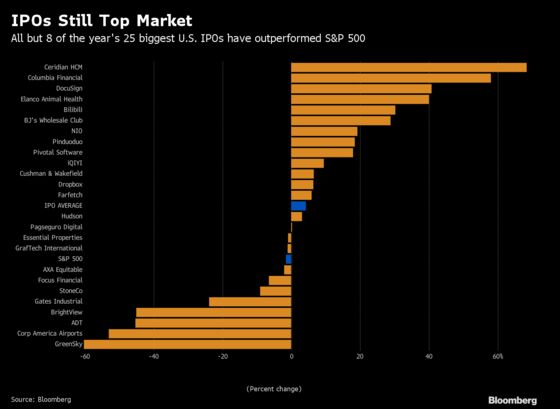 Raising a combined total of $27 billion, eight of the 25 IPOs topped the $1 billion mark. Investors who bought shares of payroll software company Ceridian HCM Holding Inc.'s $531 million listing in April have fared the best with a current return of 68 percent.
Investors in the biggest U.S. IPO of the year, AXA Equitable Holdings Inc.'s $3.16 billion listing in May, ended Friday with a 2.1 percent loss on their investment. Those who bought into 2018's second-biggest listing, Pagseguro Digital Ltd.'s $2.6 billion IPO in January, could only claim a 0.1 percent gain overall. Trailing the pack is financial technology company GreenSky Inc., whose shares tumbled after slashing its earnings forecast this month and have sunk 60 percent since its May listing.
This year's seemingly lackluster IPOs are still doing better than their predecessors. Only six of 2017's top 25 are still trading above their offer price. The disappointments have included Snap Inc.'s $3.9 billion offering, that year's largest. Snap closed Friday at $6.20, down 64 percent from its March 2017 offering price.