Morocco Looks to Mop Up Record FX Levels With Buyback Plan
(Bloomberg) -- Morocco's central bank began buying extra foreign currency from local banks, as levels hit the highest this year on the back of worker remittances and a post-Covid tourism rebound.
Bank al-Maghrib said in a statement it would hold auctions as "often as needed" to absorb the excess. It said the move that started Monday was aimed at ensuring "the proper functioning of this market." 
The central bank bought back about $410 million of local lenders' foreign currency in the first transactions, an official said, speaking on condition of anonymity because they weren't authorized to comment to the media. The central bank didn't immediately respond to an email seeking comment.
The move comes as the North African kingdom is grappling with the impact of the coronavirus pandemic and a political upheaval that saw parliament's long-dominant moderate Islamist party suffer a crushing defeat in recent elections.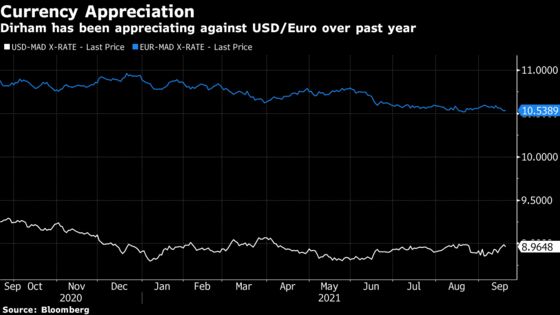 Against that backdrop, worker remittances have been breaking records in 2021 and the relaxing of travel restrictions over the summer helped buoy local banks' holdings of foreign currency to 10 billion dirhams ($1.1 billion), their highest level this year. 
Meanwhile, local demand for hard currency has fallen short of supply as pandemic-related restrictions for Moroccans hampered their travel plans. A higher import tax for wheat, linked to a bumper harvest this year, combined with a surge in the commodity's price to discourage local importers.
Morocco's annual inflation rate slowed to 0.8% in August from 2.2% the month before, according to official statistics released Monday.