Morneau Is on Shaky Ground With Claims of Canadian Wage Gains
(Bloomberg) -- The pick up in Canadian wages that Finance Minister Bill Morneau is using to justify running deficits may not be as robust as advertised.
In a budget update Wednesday, Morneau kept deficits at just under 1 percent of output, arguing strong growth, falling unemployment, and rising wages are evidence his anti-austerity policies are working. But while there's plenty of clear-cut support for his claims on growth and jobs, the wage statistics are less convincing.
The data the finance department is using comes from Statistics Canada's payrolls survey, which does indeed show average weekly earnings growing at about 3 percent since the beginning of the year. That's twice as fast as when the Liberals took power in late 2015 and is flirting with the highest level since 2011.
This is what Morneau is looking at when he says that "if current trends continue, this year will be the strongest year of wage growth in close to a decade."
But the payrolls number is just one of many often-conflicting wage measures closely tracked by economists, and all the others paint a weaker picture.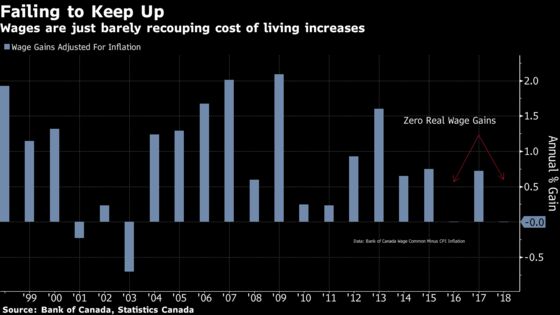 Labor force survey data show the average hourly wage rate at 2.2 percent in October; national accounts data has it at 2 percent in the first half of this year; Statistics Canada's productivity accounts show gains averaging about 2.5 percent so far this year.
To get a true gauge of underlying wage pressure, the Bank of Canada calculates a benchmark index that assigns weights on the various measures. The index, known as wage-common, is hovering at about 2.3 percent, little changed for more than a year. While that's up from an average of 1.6 percent in 2015 and 2016, it's still shy of levels from the first half of this decade.
The central bank -- which is projecting that today's "moderate" wage gains will eventually accelerate -- believes an economy running at full steam should be able to generate pay increases of 3 percent.
More troubling, there's been a small inflation spike because of higher gasoline prices, meaning the benchmark indicator will barely, if at all, keep up with the cost of living this year barring a sudden acceleration in pay. Consumer price inflation is on pace to average about 2.3 percent in 2018, economists estimate, about the same pace as wage gains.
In fact sluggish real wages -- pay minus inflation -- remain one of the few indicators that should be giving policy makers pause about what is otherwise a strong economy. Over the past three years, real wages have averaged annual gains of just 0.3 percent, versus 1 percent over the previous decade.