Morgan Stanley Tops Rivals With Jumps in Trading, Deal Fees
(Bloomberg) -- Morgan Stanley's capital-markets businesses are firing on all cylinders.
The bank was the only Wall Street firm to beat analyst expectations in three main businesses: fixed income, equities trading and investment banking. The firm's dealmakers posted a 15 percent jump in revenue, higher than each of Morgan Stanley's rivals.
Morgan Stanley and Goldman Sachs Group Inc., Wall Street's traditional securities firms, avoided the investment-banking slump that weighed on their larger rivals. Morgan Stanley also made strides in Chief Executive Officer James Gorman's goal of gaining market share in fixed-income trading. The results may help reverse the firm's stock slide after falling 17 percent this year through Monday, the most of the five biggest U.S. banks.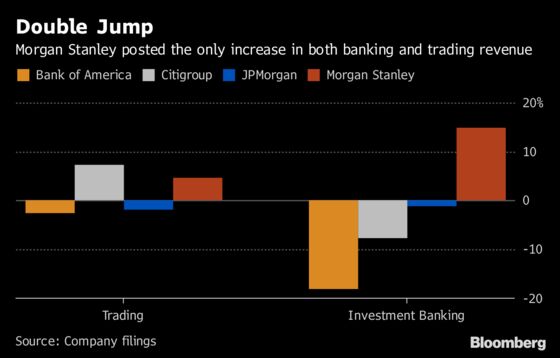 Volatile markets have boosted Morgan Stanley's businesses, Chief Financial Officer Jonathan Pruzan said in an interview Tuesday. Last week, as markets fluctuated, "we saw significant client engagement, people re-positioning and hedging," he said. However, "prolonged periods of volatility lead to closing markets and weakening confidence. We haven't seen that yet."
In investment banking, Morgan Stanley skirted a slump in debt underwriting that plagued its competitors. Fees tied to mergers and acquisitions slipped 8 percent. Pruzan said the pipeline is strong.
Fixed-income sales and trading revenue totaled $1.2 billion, a surprise 1 percent increase, due to a rise in revenue in foreign exchange and commodities, while equity sales and trading revenue climbed to $2 billion from $1.9 billion.
Net income was $1.17 per share, compared with the $1.01 estimate of 21 analysts in a Bloomberg survey.
Morgan Stanley shares were trading at $44.70 at 8:04 a.m. in early trading in New York, after closing at $43.47 on Monday.
More on Morgan Stanley's results: 

Wealth management revenue was $4.4 billion, compared with $4.22 billion a year earlier. Pretax margins were 27 percent.
Investment management fees fell to $653 million from $675 million. Assets rose to $471 billion from $447 billion. Pruzan said investment performance was slightly weaker, partially due to emerging-markets exposure.
Return on common equity was 11.5 percent, up from 9.6 percent in the third quarter of last year.