Morgan Stanley's Dealmakers Post Biggest Gains on Wall Street
(Bloomberg) -- Morgan Stanley is putting Ted Pick in charge of the firm's investment bank with momentum in his favor.
The business posted the biggest second-quarter revenue increase on Wall Street Wednesday, and the firm's trading operation topped analysts' estimates. That drove a 39 percent jump in earnings that was also better than expected, and the shares surged the most in almost four months.
Chief Executive Officer James Gorman named Pick, 49, head of the banking and trading division earlier this month after he led the equities business to a top rating for the past four years and helped turn around the fixed-income unit. The firm was the only one to post double-digit increases in both trading businesses for the second quarter and was the No. 1 adviser on mergers in the first half.
Deal backlogs are "very, very healthy," Chief Financial Officer Jonathan Pruzan said in a telephone interview. "We are No. 1 today according to the league tables that we look at. We would like to keep that position."
Advisory revenue of $618 million jumped 23 percent from a year earlier on higher levels of completed mergers, the company said. Stock-trading revenue rose 15 percent to $2.47 billion, compared with a $2.3 billion estimate of eight analysts surveyed by Bloomberg. Fixed-income trading climbed 12 percent to $1.39 billion.
"It is very hard to find anything to criticize in Morgan Stanley's latest earnings," Octavio Marenzi, an analyst at Opimas, said in a note. The "performance in sales and trading was particularly impressive."
Shares of the company advanced 3.7 percent to $51.02 at 9:43 a.m. in New York. They were down 6.3 percent this year through Tuesday.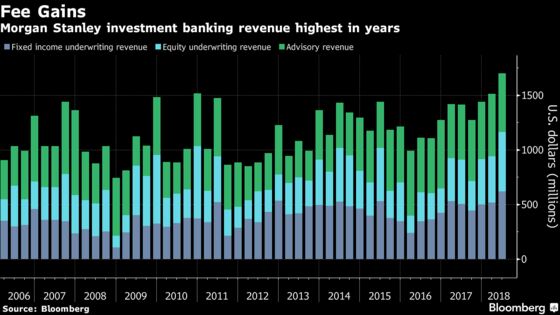 Large banks benefited from market turmoil and interest-rate increases during the first half, with Goldman Sachs Group Inc., JPMorgan Chase & Co. and Bank of America Corp. all posting better-than-anticipated fixed-income gains.
Pruzan said trade tensions and a fear of an inverted yield curve hasn't yet affected investor and client sentiment, but could have an impact in the second half if investors decide to take "risk-off" positions.
"We've seen a few deals delayed here and there," he said. "There are others who are saying we should go now because we don't know if it'll be worse in the future."

Highlights
Investment banking generated $1.7 billion, above the $1.42 billion estimate, helped by both merger and equity-underwriting fee gains.
Per share earnings were $1.30, beating the $1.11 estimate of 21 analysts surveyed by Bloomberg.
Revenue advanced 12 percent to $10.6 billion, above the $10.1 billion estimate.
Return on equity was 13 percent, dropping from 14.9 percent at the end of March. 
In wealth-management, revenue rose 4 percent to $4.33 billion as client assets surpassed $2.4 trillion, Morgan Stanley said in a statement.